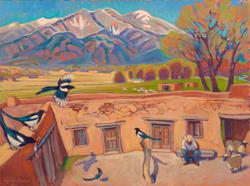 The beautiful Martinez Hacienda allows us to feel the same pride as our ancestors and share in the same comfort that our parents found in its history.
--Gene Sanchez, Town of Taos Councilman and retired architect
Taos, NM (PRWEB) July 14, 2011
On Friday, the Taos Historic Museums will host its third annual Fandango Fundraiser to benefit its two historic sites, La Hacienda de Los Martinez and the Blumenschein Home.
The Martinez Hacienda is one of the few northern New Mexico style, late Spanish Colonial period, "Great Houses" remaining in the Southwest. Built in 1804, the Hacienda marked the end of the Camino Real, or "Royal Road," that connected northern New Mexico to Mexico City. Today, the site provides visitors with a rare glimpse of the rugged frontier life and times of the early 1800s.
The Blumenschein Home and Museum serves as a tribute to artists Ernest Blumenschein and his wife Mary Greene Blumenschein. Located right in downtown Taos, the Home is maintained much as it was when the artist and his family were alive. The House is filled with the family's lifetime of personal possessions, fine European and Spanish Colonial style antiques, and a magnificent collection of art by famous Taos artists, including art by the Blumensheim family themselves.
Both historic sites demonstrate the rich cultural heritage of northern New Mexico, and serve northern New Mexico residents as well as out of state visitors. Over one hundred years of wear and tear have rendered these aging adobe buildings in great need of repairs. The Fandango Fundraiser serves as an integral source of funding for maintaining these important cultural sites. This year, the money raised in the fundraiser will go toward re-mudding the Hacienda de Los Martinez.
"The beautiful Martinez Hacienda allows us to feel the same pride as our ancestors and share in the same comfort that our parents found in its history," remarks Town of Taos Councilman and retired architect Gene Sanchez. "We must preserve this gem for its architecture and cultural significance."
The event will take place Friday July 15, 2011 from 5:30 p.m. on at the Taos Country Club. There will be Spanish tapas, a live and silent auction and music by Mariachi Buenaventura.
Auction items include artwork, arts and crafts, jewelry, health and beauty services, restaurants, hotel and resort stays, entertainment packages and more. Artists featured in this year's auctions include Leigh Gusterson (this year's poster artist—photo at right, top); Mark Asmus; Victor Goler; Clarence Medina; Richard Alan Nichols; Ouray Meyers; Anita Rodriguez; and Thom Wheeler.
Tickets are $50.
For information or to order tickets, call the Taos Historic Museums at (575) 758-0505. More details are available at the Museum's website, http://www.taoshistoricmuseums.org
For more information regarding tickets or the event, contact:
Kathryn Cordova
575 758 4020 or 575 770 4246
midgecordova(at)hotmail(dot)com
For media inquiries, please contact JLH Media
Jennifer Hobson
Jennifer(at)jlhmedia(dot)com or 505 603 8643
###