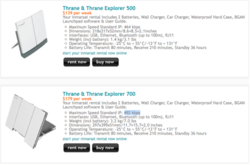 San Diego, California (PRWEB) July 20, 2011
Allroadsat.com, the leader in satellite phone rentals & sales, is announcing their portable satellite internet units, and their new ability to connect laptops, cell phones and cameras to an internet connection from anywhere in the world.
"We understand that in today's global economy, business owners and consumers alike, need to be able to get online every day. It has become a fact of life," said Chris Hoar, Allroadsat's spokesman. He went on to say, "Even if you already have a device that is internet-ready, these internet units are a smart back-up plan. You never know when your battery will die."
Inmarsat Satellite Internet units do not rely on landlines, cables or cell towers, they operate independently of all land-based infrastructures. All Road Sat offers the units for sale or rent, and the base model, the Thrane & Thrane Explorer 300, starts at $44.99 per week. All Inmarsat rentals include 2 Batteries, a Wall Charger, a Car Charger, a Waterproof Hard Case, and a BGAN Launchpad software & User Guide.
"Portable Internet units provide always-on access to your online life, regardless of where you are. Emergencies happen every day, and just because you are off the grid doesn't mean you won't need to access your Internet banking, company website and stay on top of news coverage at home," said Hoar. "In addition to internet access, according to our customers, the greatest service these units provide is peace-of-mind. Just because they are out of the country, doesn't mean they are out of touch, and that's what it's all about."
Allroadsat offers Inmarsat's satellite internet units with speeds up to 492 kbps, weights as light as 3.1lbs., and standby battery life of up to 36 hours.
Allroadsat is Open 24 hours a day, 7 days a week, and offers next day shipping to anywhere in the Continental USA. Allroadsat is a Bronze Level Inmarsat Partner.
To rent your Satellite Internet unit starting at just $44/week, click here or call 1-888-884-7623.
Allroadsat is based in San Diego, California, and has satellite offices in Colorado, Florida & London, England. Allroadsat has been providing satellite phones, and communications services since 2006. Allroadsat rents and sells satcom services for Iridium, Globalstar & Inmarsat. Allroadsat also provides services & products to the US Government via GSA Schedule 70. For more information, contact Mike Mikha at mike(at)allroadsat(dot)com, or on his direct line at 619-957-9685.
Check out our website, or call us Toll Free 24 Hours 1-888-884-7623.
# # #