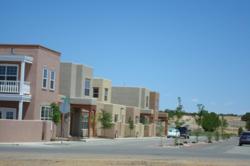 A home less exposed to weather extremes, fault lines and industrial facilities makes sense.
Santa Fe, NM (PRWEB) July 14, 2011
As we sadly watch the events in Japan, Joplin Missouri and the flood ravaged mid-west, we see that a home less exposed to weather extremes, fault lines and industrial facilities makes sense, and Santa Fe is such a place. Natural Homes Group of Prudential Santa Fe Real Estate can provide a sustainable home or an entire Eco-Village in Santa Fe, the oldest city in the United States celebrating it's 400th Anniversary. Santa Fe offers a high quality of life, as an arts enclave and high tech research center, nestled in the foothills of the Rocky Mountains where a resident can enjoy great skiing in the morning and golf in the afternoon.
Why is Santa Fe safe and secure?
Far from Pollution
Far from the Sea
Far from Fault Lines
Far from Mega Cities
Not prone to Tornado's and Cyclones
Not near Domestic Nuclear Reactors
Not near Large Scale Industrial Facilities
SPECIAL OFFER : OSHARA VILLAGE AVAILABLE
Oshara Village is one of the most sustainable communities in the nation, featuring 100% water reclamation and reuse, access to public transportation, neighborhood agriculture, walkable urban design and Zero Energy Homes. Oshara is located next to the Santa Fe Community College with its Advanced Technology Training Center and already has more than 50 homes occupied. With over 700 homes and 1 million square feet of commercial and light industrial approved, Oshara makes a perfect head quarters or R&D center for a company that wants a more secure location for it's most valuable human assets in a creative and innovative community.
Santa Fe is surrounded with both public and private research centers including the Los Alamos and Sandia National Laboratories, Santa Fe Institute and University of New Mexico. Oshara's neighbor, the Santa Fe Community College offers high-tech workforce training and has a portal to the State of New Mexico Super Computer. With direct flights to Dallas and Los Angles, you can live and work in this innovative community and have easy access to other cities.
The recent real estate realignment has created a significant buying opportunity. Real estate prices in Santa Fe are reasonable and stable compared to many cities. The Low and Zero Energy Homes that Natural Homes develops and sells provides stability in what seems to be an increasingly volatile energy market at prices a working family can afford.
For more information about Green Homes and Oshara Village in Safe Secure Santa Fe, New Mexico call:
Alan Hoffman
505-316-0449
Village(at)NewVillage(dot)com
###