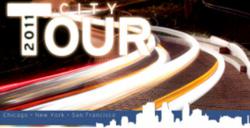 Chicago, IL (PRWEB) July 14, 2011
InterCall, the world's largest conferencing and collaboration services provider, has kicked off a City tour to educate customers and prospects in three major metropolitan cities about virtual event technology. The tour will demonstrate the benefits of the new InterCall Event Services Suite, which offers enterprises a continuum of communications solutions including operator assisted audio, streaming video and customizable virtual business environments.
"InterCall is a dynamic, virtual technology partner for us," said Caroline Avey, Director of Innovative Learning at ACS, a Xerox company. "The InterCall virtual environment platform has been an ideal match for the needs of our training and business communications efforts, and we are intrigued that InterCall is now offering an even wider range of virtual products."
The tour's second stop is today in New York and will feature speakers Robyn Duda, Senior Director, Events for InformationWeek and Paul Waadevig, Principal Consultant, Frost & Sullivan. The InterCall road show started this week in Chicago and will be in the San Francisco Bay area next week (7/21/11). The tour can be attended in person as well as virtually. Those interested can sign up here.
"The launch of our Event Services City Tour demonstrates our commitment to educating marketing and training executives about how to effectively address communications challenges," said Scott Etzler, President, InterCall, Inc.
Elements of the InterCall Event Services Suite include:

Virtual Environments: InterCall enables customers to easily build and customize virtual marketing, recruiting and training environments. Attendees are greeted by a virtual host and can view sessions, ask questions, chat, network, and view and download supporting material. The attendee interface is designed for ease-of-use and a high level of attendee engagement.
Streaming: InterCall Streaming is a highly customizable and powerful rich media application that enables high-quality video and audio broadcasting, including polls, Q&A management and more. InterCall streaming services are web-based, secure and require no additional hardware or software.
Operator Assisted Conferencing: InterCall provides a reservation-based service that offers high-end audio conferencing service 24/7, with the personal assistance of an operator and support personnel who manage high-touch features. InterCall supports calls ranging from three to over 10,000 participants.
Event Services: InterCall provides event specialists to handle all event needs, from consultation and scheduling to training and support. In addition to pre- (planning, rehearsals, presentation upload, etc.), live (moderation, Q&A management, etc.) and post- (speaker debrief, report delivery, etc.) event support, InterCall offers on-demand file management, quick turn event management for those who have 24 hours or less to create an event and recording support.
InterCall Event Services are built on two InterCall acquisitions and represent InterCall's continued commitment to offering its customers the latest technologies and anticipating their future needs. InterCall's streaming services come from its acquisition of Stream57 in December 2009 and its virtual environment platform comes from its acquisition of Unisfair in March 2011.
For more information, visit http://www.intercall.com.
About InterCall
InterCall, a subsidiary of West Corporation, is the largest conference and collaborations service provider in the world and a leading provider of global cloud-based unified communications services. Founded in 1991, InterCall offers telephony, messaging, conferencing and collaboration tools for businesses of all sizes, from large global enterprises to small or regional companies. With a global footprint and broad service capabilities, InterCall's flexible models for hosted, managed and on-premises communications services help companies get the most out of their business processes.
InterCall's strong U.S. presence, including four call centers and 26 sales offices, is bolstered by operations in Canada, Mexico, Latin America, the Caribbean, the United Kingdom, Ireland, France, Germany, Australia, New Zealand, China, India, Hong Kong, Singapore and Japan. For more information, please visit http://www.intercall.com.
# # #