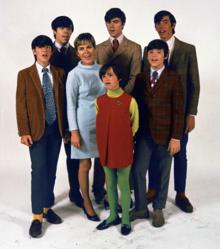 Their public image was talent and charm. Their private reality was secrets and fear.
Providence, RI (PRWEB) July 15, 2011
Family Band: The Cowsills Story is one of the major attractions to premiere at the upcoming Rhode Island Film Festival. A ground-breaking documentary by radio veteran and film producer Louise Palanker, the film tells the true story behind the family band The Cowsills. One of the most musically gifted American families to hit the top of the pop charts, The Cowsills rose to fame, success and stardom in the late sixties. Signed by MGM, kid siblings Bill, Bob, Paul, Barry, John and Susan, plus mom Barbara, ruled airwaves and TV variety shows with timeless hits like "The Rain, the Park and Other Things," "Indian Lake" and "Hair."  Their music influenced a generation of musicians and artists and they inspired the hit TV series The Partridge Family. But only five years after their soaring debut, their star came crashing back down to earth. The band separated and the family scattered.
Family Band: The Cowsills Story reveals the raw,  honest and tragic truth of what happened to The Cowsills – a family whose public image was talent and charm. Their private reality was secrets and fear. The Cowsills personify The Baby Boomer Generation in all of its extremes and eccentricities. All of its tragedies and triumphs. Their journey spans from Vietnam to Katrina and beyond.
For the past seven years, filmmaker Louise Palanker has been documenting the adult Cowsill siblings as they have gone in search of answers to questions which have plagued them since childhood. Why were they so horribly mismanaged? What happened to all of their money? Why did everything they had worked so hard to achieve fall apart so dramatically? A fan of The Cowsills as a young girl, Palanker always wondered what had happened to them. "I went to see Bob Cowsill play at a Los Angeles pub in 2003," says Palanker. "It happened to be the night when his youngest brother was getting married, so all of The Cowsills were joining him on stage. It was as if the posters on my pre-teen wall had grown up and come to life. The sound coming off of that stage was magic. What were these people doing playing in a pub on Ventura Blvd? I knew there was a story there."
Palanker's seven year search for the story of The Cowsills has been marked  by heartbreak, personal loss, and ultimately, redemption. To help tell that story, Palanker commissioned Director of Photography Ian Broyles and Editor Bill Filipiak. Filipiak's company Thinking Bee, and Co-Owner and Associate Producer Jo Hunt were brought in to give the film shape and construct. Not such an easy task with over 300 hours of footage. "When Louise first approached us about helping with the film," says Filipak, "we were immediately drawn into the story of The Cowsills. To learn what The Cowsills experienced  and how they overcame so much adversity as a family is  heart-wrenching, heart-breaking and heart-warming all in the same breath. I think it's difficult to hear their story and not be moved to tears. I think it's equally amazing how one person's quest for answers has quickly turned into a piece of rock and roll history."
Scheduled for its World Premiere at the Rhode Island Film Festival's VMA Main stage on August 10th, 7 pm,  Family Band: The Cowsills Story will include an in person Q&A with The Cowsills and the film's creative team and a musical performance by The Cowsills, a family whose love and whose music continues to pull them back together.
For more info, please contact Julia Drake at julia(at)juliadrakepr(dot)com.
###