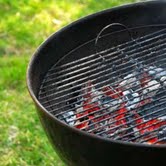 Approximately 3,500 outdoor fires are caused by barbeque grills.
Neptune, NJ (PRWEB) July 14, 2011
Cooking with a barbeque grill is a national past-time and for many, it's a major part of the classic summertime experience. Although thoughts of summer BBQ's are usually associated with good times, it is important to take great care around barbeque and other outdoor cooking appliances.
Statistics from the National Fire Protection Association (NFPA) show that barbeque grills cause an average of just under 1,000 structure fires per year. Approximately 3,500 outdoor fires are caused by barbeque grills.
Historically, incidents involving barbeque grills increase in the summer months, particularly in July. Although in some parts of the United States, incidents involving barbeque grills can occur at anytime throughout the year.
"Many residents don't realize the danger", said 24 year veteran firefighter Donald Colarusso, President of All Hands Fire Equipment and leading supplier of Fire Helmets and Fire Boots. "I have seen people with huge fireballs coming from their grill, and it can be a very dangerous situation."
Here are some tips for barbeque grill owners that can make their outdoor cooking experience enjoyable and safe.

Ensure that the barbeque grill is placed or installed at a safe distance from the home, as well as from overhangs, siding, wood decks / railings, and vegetation.
Barbeque grills should never be used indoors. This includes inside porches, patios, garages, sheds and any other enclosed structures.
A barbeque grill should be clear from areas where people gather, commonly pass-through and recreation / play areas. This greatly reduces burns from accidental contact with the barbeque grill.
Keeping a barbeque grill free from grease build-up will also help prevent unexpected flare-ups. Grills should be cleaned regularly.
Using and maintaining a barbeque grill in accordance with the manufacturer recommendations is a simple yet commonly overlooked safety measure. Making sure that gas (propane or natural gas) hose and fittings are maintained, leak-free and in proper working order should be a priority.
Exercising care when using starter fluid and related ignition-assistance fuels is vital to your safety. Directions and manufacturer suggested use for these substances should never be taken lightly. When not being used, store these fuels in a safe and secure location.
Anytime an odor of gas is detected, the gas source should immediately be shut off. If the grill is "on" (flame present) and a strong gas odor is detected, all people should move away from the grill and 9-1-1 should be called.
While cooking, loose clothing or garments that can come in direct contact with the fire should not be worn. Using long handle grilling utensils that provide plenty of clearance from the flame is recommended.
As with any interaction with fire, whether it is a barbeque grill, a campfire, or anything similar, using extreme caution around any open flame can significantly reduce the occurrence of injury and home fires.
###