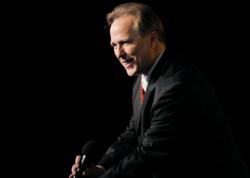 Los Angeles, CA (PRWEB) July 18, 2011
When a Narrator speaks most of the dialog, filmmakers try to get someone who is universally known and loved. Morgan Freeman was not available, so John Francis Daley and Jonathan Goldstein tapped Audiobook veteran, actor R.F. Daley as the voice of "Audio Tour".
R.F. Daley has narrated over 150 audiobooks as well as numerous radio and television ads and has extensive experience on Broadway, film and television. He can be seen on-camera in "Bridesmaids" as the snooty, lemonade dealing butler. When approached to voice "Audio Tour" starring Will Forte and Erinn Hayes, R.F. could hardly say no as the Writer/Director was his son actor John Francis Daley, currently starring on the Fox Series "Bones".
"Audio Tour" follows on the heels of the smash hit comedy "Horrible Bosses", Daley and Goldstein's newest release, which is currently tearing up the box office nationwide. R.F. Daley has a good deal of experience working with his son John, having started when John was ten years old on the National and International tours of "The Who's Tommy", his yearbook teacher Mr. Mainzer on "Freaks and Geeks, "Boston Public" as his father and most recently on "Bones" (The Truth in the Myth) where he is interrogated as a murder suspect.
http://www.funnyordie.com/videos/3f2cf8ea42/audio-tour-with-will-forte-erinn-hayes?playlist=featured_videos
###