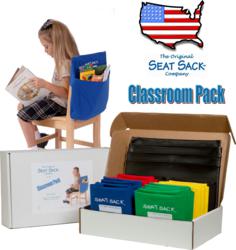 "When students have all of the items they need throughout the day right at their seats, it greatly reduces time wasted..."
Naples, FL (PRWEB) July 14, 2011
As teachers and students embark on this Back to School season, fifty lucky teachers will receive a Classroom Pack of school organizers to start their year off in an organized fashion. The Seat Sack ™ Corporation announced the first ten of fifty winners in their 50 State~50 Classroom Pack Giveaway this past weekend. Teachers throughout the 50 states have been sending in their written submissions of "something great that is happening in education in their state" for a chance to win a classroom set of Seat Sack™ chair pockets or Hand-e-Sack™ organizers.
After listening to constant negative school reports across the country, the Seat Sack ™ Corporation began to look at ways to make a difference. The decision was made to offer a Facebook forum for teachers to share positive changes, teaching techniques or other optimistic actions that are taking place in their school or classroom. According to Michelle Holder, Director of Marketing & Sales, "the purpose in offering a forum for sharing great things is that others may learn and gain knowledge from each other to help improve the teaching and education experience in their own school or classroom." To draw attention to the forum, the Seat Sack ™ Corporation decided that a giveaway would give teachers an incentive to share their ideas.
Katie Carter of Arizona State was one of the first names drawn in the giveaway. She plans to use Seat Sacks ™ in her kindergarten classroom to eliminate time passing out materials such as folders or book bags. According to Katie, "When students have all of the items they need throughout the day right at their seats, it greatly reduces time wasted on transitions which leaves more time for learning. I can't even begin to tell you how excited I feel to be the Arizona winner of the Seat Sack™ contest!"
The first 10 winners and states announced thus far in the campaign include: Delaware~Moira Snider, North Dakota~Nicole Nodland, Tennessee~Connie Sharp, Oklahoma~Jami Huck, New York~Debbie Dermady, Maryland~Rachel Hall, Iowa~Pamela Simmons-Bailey, West Virginia~Regina Green, Florida~Priscilla Federick, Arizona~Katie Carter. The next set of winners will be announced August 4th.
Thousands of teachers across the country have already taken the challenge and have shared great things that are happening in education in their state. Teachers have shared teaching strategies, school improvement plans and statewide new mandates and programs. The Seat Sack ™ Corporation plans to keep the entry forum open until every state has been awarded a winner.
Founded in 1999, the Seat Sack™Corporation has successfully been selling the patented Seat Sack™ storage pocket as a practical storage solution for the home, school and office. Ann McAlear, the President and Founder of the Seat Sack™Corporation has been selling products to assist teachers in finding more space and time for teaching. Her focus is on helping teachers and students to have a positive education. For more information, and to learn about other products and promotions offered by Seat Sack™ Inc, please visit the Seat Sack™ website.
Seat Sack™ Inc Gives Teachers the Incentive to Share Positive Education Experiences for a Chance to Win Free Seat Sack™ Chair Organizers.
###