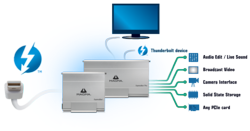 San Diego CA (PRWEB) July 14, 2011
Magma, an innovative and visionary developer of PCI Express expansion and connectivity products, announced plans to support the all-new Thunderbolt™ technology, developed by Intel® and brought to market in collaboration with Apple®. Magma has a long history of providing expansion systems that extend PCI and PCI Express bus signals over cable from the computer to an external expansion chassis. Magma's Thunderbolt expansion offerings will provide a migration path to Thunderbolt, while protecting customers' investment in specialized PCI and PCI Express option cards made for video capture and edit, broadcast video, pro audio, communications, data acquisition and more. The introduction of Thunderbolt technology on Apple MacBook Pro and iMac computers provides an opportunity for Magma to embrace the next generation of "outside the box" high-speed connectivity and support the users who will be upgrading hardware while continuing to depend on PCI and PCI Express peripherals.
Thunderbolt technology is a new, high-speed, dual-protocol I/O technology designed for performance, simplicity, and flexibility. Thunderbolt technology features dual-channel 10 Gbps per port bi-directionally. Thunderbolt supports both PCI Express and DisplayPort protocols, bringing together high-speed data transfer and high-definition (HD) display onto a single copper or optical cable. A high performance media workstation can be built by simply connecting a Thunderbolt equipped computer to external Thunderbolt devices such as data storage, media capture, high-resolution displays and expansion chassis.
"Thunderbolt technology is the interconnect protocol that performance hungry video and audio production professionals have been demanding for quite some time," says Randy Jones, CEO and President at Magma. "We are thrilled to be involved in supporting this cutting edge technology collaboration between Apple and Intel and to be bringing Thunderbolt expansion solutions to market before the end of the year".
"Thunderbolt technology combines high-speed data and display transfers, delivering great responsiveness with absolute ease of use," said Jason Ziller, Intel director of Thunderbolt planning and marketing. "Magma's upcoming products will use Thunderbolt technology to extend system capabilities even further."
Magma is dedicated to providing expansion products for a variety of platforms. As new interconnect options become available, Magma will adopt technologies like Thunderbolt that remove bandwidth bottlenecks for users with sophisticated audio, video, mass storage and high performance computing applications.
About Magma
Magma develops and manufactures PCI & PCI Express Expansion Systems for servers, desktops and portable platforms. Magma's patented expansion products extend PCI and PCI Express signals outside the computer over cable to a chassis containing multiple card slots. Magma's product line includes enclosed and non-enclosed solutions ranging from low-end single slot expansion products to fault-tolerant, highly reliable, accessible and serviceable (RAS) chassis specifically designed for mission critical environments. Magma expansion solutions enable you to protect your investment in expensive, specialized add-in cards while providing an easy migration path from legacy protocols, like PCI, to high-speed PCI Express protocols.
Magma products are platform independent, and are used in a variety of industries including audio and video production, test and measurement, medical imaging, surveillance, aerospace and defense, telecommunications, data acquisition, and high performance computing. Magma's team of experienced engineers has been developing expansion and connectivity solutions since 1987. Magma products are assembled in San Diego, CA and go through rigorous certification and quality processes. Magma is the trade name of Mission Technology Group, Inc. For more information, visit http://www.magma.com.
###