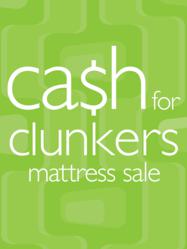 There are simply too many families and children in our community who do not have a bed to sleep on.
Dallas, TX (PRWEB) July 14, 2011
Ever get the feeling you've hung on to your lumpy, old mattress a little too long? Dallas/ Forth Worth mattress retailer Sleep Experts invites customers to trade up and sleep better during its annual Cash for Clunkers event now through August 16.
Customers who trade in their old mattresses, in any condition, will receive up to $750 off select new mattress sets. The old mattresses will be completely refurbished for donation to local nonprofits serving families in need through the company's Share the Gift of Sleep program.
"I love the Cash for Clunkers event because it gives our customers an opportunity to trade up, sleep better, AND share the gift of sleep with a family in need," said Christine Cook, wife, mom and president of Sleep Experts. "There are simply too many families and children in our community who do not have a bed to sleep on, so this year we are raising our goal to collect 2,500 beds."
The Cash for Clunkers offer is given in the form of an instant rebate and is good on select mattress sets including Simmons, Laura Ashley, ComforPedic, and Dr. Breus. In addition to the rebate, Sleep Experts offers free financing for up to 24 months. Trade-in mattresses will not be collected in the stores. The Sleep Experts delivery team will pick up the old mattress when delivering the new one.
Share the Gift of Sleep
At the heart of Sleep Experts is a commitment to giving back to the local community. Through the company's Share the Gift of Sleep mattress donation program, every customer's old bed is recycled and donated to one of more than 30 nonprofit organizations that care for North Texas families struggling to overcome domestic violence, child abuse, homelessness or poverty. To date, Sleep Experts has donated more than 9,000 beds totaling $600,000, resulting in more than a million nights of sleep for thousands of local families.
About Sleep Experts
Sleep Experts, a mattress retailer with 34 North Texas locations, offers a broad selection of innerspring mattresses, foam mattresses and air mattresses, with brands including Tempur-Pedic, ComforPedic, Simmons, Beautyrest, Laura Ashley, Sleep Designs, Dr. Breus, and Comfortaire. The company's mission is to exceed customers' expectations, and it backs this pledge with a One Year Love Your Mattress Guarantee™. Recent accolades include the Dallas Business Ethics Award, four consecutive Consumers' Choice Awards, and top workplace awards from both Dallas Business Journal and The Dallas Morning News. Sleep Experts shares the gift of sleep with families in need by donating customers' old mattresses to North Texas nonprofit organizations. For more information, visit http://www.sleepexperts.com or call (888) 55-SLEEP.
###