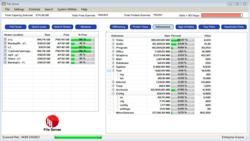 Hard to imagine we had close to 20 gig of Torant files on our network taking up space, File Sense located and removed them all.
Round Rock, TX (PRWEB) July 26, 2011
Data is increasing at 50% a year for most companies, and it is expected to grow 50 fold in three years at the current rate of storage. Because of some many data types Storworks has added Novell NSS volumes to the already supported Windows storage environments to analyze. Many businesses have no idea of what kinds of data they are storing and now even Novell customers and get accurate forecasting by profiling data storage habits of their users. There are duplicates and a lot of inactive files on most networks.
Storworks announces an easy way to organize and classify data, beginning with File Sense. This software can automate the task of profiling data. Files are analyzed, and File Sense automatically provides a detailed report about stored data.
A company spokesperson recently said, "We are able to identify inefficient data storage methods in use on secure networks. This allows our customers to learn how to reduce the cost of storing data by altering where they store the data and what should be archived. "
File Sense is now completely agent-less so there is no risk to important network resources. Also, once the data is profiled, it is easy to see with a glance what is actually stored on the network. File Sense finds how many files exist and how many are not related to business. Some files may be movie clips, pictures, or other items.
One customer noted, "File Sense was simple to use. I was impressed with the way we were able to scan our network to find out what we really had. The report was extremely helpful to us. In reducing cost to formulate a long term data management strategy"
For more information, please visit http://www.storworks.com.
About Storworks Software
Storworks is a company that focuses on automating tedious data collection tasks. Their File Sense was developed two years ago, based on input from their customers. This company is continually working toward more advanced capabilities to improve their services.
###