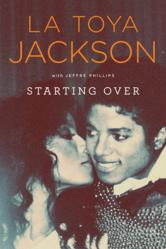 Los Angeles, CA (PRWEB) July 14, 2011
In its first two weeks of bookstore sales, La Toya Jackson's explosively candid memoir, "Starting Over," has hit the New York Times Best Sellers List for sales reflecting the week ending July 2, 2011. The enthralling memoir, published by Simon & Schuster's Gallery Books and Ja-Tail Publishing Company, features La Toya as you've never seen her before, giving a first-hand account of her tumultuous life as she survived life threatening abuse and heartache, only to come back as a survivor, stronger than before. The memoir also focuses on the loss of her brother, Michael Jackson, and La Toya's role in bringing his killers to justice. Recently featured on NBC's the Today Show, MSNBC, and in the pages of the New York Post, the memoir sheds new light on the dynamics of the Jackson family and discloses the truth behind the curtain of secrecy and intrigue that has surrounded her brother Michael, her siblings, and the rest of the Jackson dynasty.
La Toya Jackson is no stranger to success on the New York Times Best Seller's list; In 1991, Jackson penned her first book, "La Toya, Growing Up In The Jackson Family," which made media history and was on the list at the number two position for several weeks, selling millions of copies worldwide. This follow-up finds her twenty years later and multiple-times stronger, updating readers and diehard fans alike as she takes them inside for an open and honest account of her past, and an intimate look into her future.
"I'm so excited to have my family of fans updated on my story and to get the truth out there about myself, my family, and my brother," La Toya stated. "It is very important for me to share with the world the love Michael and I had and how special our relationship was, as well as the promise I've made to keep his spirit and memory alive and pure."
For photography, book inquiries, and talent information please contact "it" girl public relations – Juliette Harris (310) 577.1122 Juliette(at)itgirlpublicrelations(dot)com.
About Gallery Books:
Gallery Books is an imprint dedicated to publishing a wide variety of must-read books on a wide array of topics. The imprint was designed to showcase established voices and to introduce emerging new ones—in both fiction and nonfiction, and across a variety of genres. Some of Gallery Books' bestselling titles include Gunn's Golden Rules by Tim Gunn, High on Arrival by Mackenzie Phillips, Are You There, Vodka? It's Me Chelsea by Chelsea Handler, Uncharted TerriTORI by Tori Spelling, Assholes Finish First by Tucker Max and Left Neglected by Lisa Genova. Upcoming titles include The Taker by Alma Katsu, Groundswell by Katie Lee, and Love Story by Jennifer Echols.
About Simon & Schuster:
Simon & Schuster, a part of CBS Corporation, is a global leader in the field of general interest publishing, dedicated to providing the best in fiction and nonfiction for consumers of all ages, across all printed, electronic, and audio formats. Its divisions include Simon & Schuster Adult Publishing, Simon & Schuster Children's Publishing, Simon & Schuster Digital, and international companies in Australia, Canada, and the United Kingdom. For more information, visit our website at http://www.simonandschuster.com.
About Ja-Tail Publishing Company:
Ja-Tail Publishing Company is a division of Ja-Tail Enterprises, LLC. This is the first of several publications to be released by Ja-Tail Publishing. For more information, visit our website at: http://www.jatail.com.
# # #