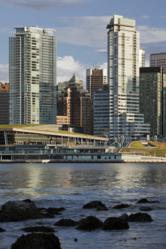 Vancouver is a biker's paradise and the casual elegance of the Fairmont Pacific Rim—and their new fleet of BMW bikes makes this the perfect base to launch the inaugural urban Butterfield & Robinson biking trip
Toronto, Ontario (PRWEB) July 15, 2011
In response to increased demand for shorter trips in North America and the building interest in urban biking, Butterfield & Robinson, the world's leading active travel company, is introducing a series of new biking trips that are closer to home.
Butterfield & Robinson's new four-day Vancouver biking trip uses the Fairmont Pacific Rim as its base and offers biking along seawalls, historic neighbourhoods and through true wilderness, as well as the chance to stop and enjoy inventive West Coast cuisine. The bike routes range from easy to moderate—and B & R Guides can modify the routes for different abilities and interests.
"Vancouver is a biker's paradise and the casual elegance of the Fairmont Pacific Rim—and their new fleet of BMW bikes makes this the perfect base to launch the inaugural urban Butterfield & Robinson biking trip," says Vancouver-born Norman Howe, president of Butterfield & Robinson.
In partnership with German automaker BMW Group, Fairmont Hotels & Resorts offers guests complimentary access to top-of-the line bicycles at its portfolio of world-class hotels around the globe. A healthy and environmentally-sound way to get out an experience Fairmont's diverse locations, lock and helmets are also provided to keep both guests and bikes safe and secure. For more information on this and other exciting programs at Fairmont, please visit http://www.fairmont.com.
On the other side of Canada, B&R is also offering new biking trips along the Niagara Wine Route. Recognized as one of Canada's premier winemaking regions and a must-experience destination among the locavore crowd, the ride makes stops in many of the picturesque towns that dot the region, notably Jordan and historic Niagara-on-the-Lake. This four day adventure is available in September or as a private or corporate getaway.
"The Niagara Region has so much to offer in terms of culture, cuisine and landscape; now there is a B&R trip that showcases them all," says George Butterfield, founder of Butterfield & Robinson. "I have been biking through the Niagara region for many years; the quality of food and wine is unprecedented."
The biking trips in Vancouver and Niagara are complemented by the recently announced Augusta Masters walking trip and a series of corporate and Bespoke options across North America which include: Vail to Aspen, Moab to Telluride, The San Juan and Gulf Islands, New Orleans and Las Vegas.
About Butterfield & Robinson
Butterfield & Robinson offers innovative itineraries worldwide. Their motto since 1966 remains "Slow Down to See the World." Imaginative trip design, exquisite service and the tireless pursuit of the world's most fascinating places continue to make B&R a leader in luxury active travel.
About Fairmont Hotels & Resorts
Located in world-class destinations around the globe, Fairmont Hotels & Resorts is a celebrated collection of hotels that includes landmark locations like London's The Savoy, New York's The Plaza, and Shanghai's Fairmont Peace Hotel. With more than 60 hotels, Fairmont is known as much for its warm, engaging service and culturally rich experiences, as its classic hotels that imbue a sense of heritage, sophistication and social importance and are often considered destinations in their own right. A community and environmental leader, Fairmont is also regarded for its responsible tourism practices and award-winning Green Partnership program. Fairmont is owned by FRHI Holdings Limited, a leading global hotel company with over 100 hotels under the Fairmont, Raffles, and Swissôtel brands. The company also manages Fairmont and Raffles branded estates and luxury private residence club properties. For more information or reservations, please call 1-800-441-1414 or visit http://www.fairmont.com.
###