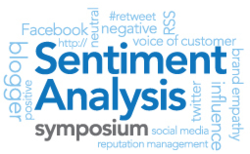 "The Sentiment Analysis Symposium provides a great opportunity for social, customer-facing organizations to learn from, and network with, peers and industry and research experts and innovators." -- Symposium Chair Seth Grimes
Takoma Park, MD (PRWEB) July 14, 2011
A roster of visionary speakers, from organizations including TripAdvisor, the University of Maryland, Amazon.com, Tata Consultancy Services, Korea-based Saltlux and Germany-based Acrolinx, and Trinity College, Dublin, will present at the November 9, 2011 Sentiment Analysis Symposium, the only event focusing on sentiment analysis of enterprise, online, and social content. The San Francisco event, organized by industry analyst Seth Grimes, targets marketing, finance, social media, and customer-support, and online-commerce executives, strategists, and staff. The symposium will be preceded by a November 8, 2011 half-day Practical Sentiment Analysis tutorial taught by Stanford University Professor Christopher Potts.
"Businesses are eager to extract and exploit consumer and market sentiment and opinion from the broad array of information sources online and in the enterprise," said symposium chair Seth Grimes. "The San Francisco event is our third Sentiment Analysis Symposium. Our New York conferences provided much-needed common ground for customer-experience and agency leaders to learn about the technology and solutions from their peers and from industry and research experts and innovators," according to Grimes, "and November 9, we're going to do it again, only bigger and even better, extending to reach online commerce and Asian audiences. We've lined up a great program, uniting thought leaders and experienced users from organizations that include TripAdvisor, Saltlux, Acrolinx, and Amazon.com as well as research and industry leaders, start-ups, and specialized firms. The November 9, 2011 San Francisco symposium will be a great learning and networking opportunity."
Sentiment Analysis Symposium speakers represent diverse backgrounds and companies. They focus on online and social media measurement and analytics -- on business intelligence for enterprise, Web, and social opinion sources -- whether representing an enterprise-software leader or start-up, research firm, an online information provider, an agency, or a consultancy.
Sessions include –

State of Sentiment, a keynote presented by Professor Philip Resnik of the University of Maryland
Attitude, Orientation and Evaluation: Political and Financial Affect Analysis with Professor Khurshid Ahmad of Trinity College, Dublin
Lipika Dey of Tata Consultancy Services speaking on Fusing Sentiment and BI to Obtain Customer/Retail Insight
TripAdvisor's John Kelley, in a talk titled What Travelers Say: Using Sentiment to Improve User Engagement
Ivan Berlocher chief scientist at Saltlux, attending from Korea to speak on Lessons Learned from a Call Center Analysis System for a Major Telecomm
The Rise and Fall of the First Social Media Sentiment-Based Hedge Fund, presented by Richard Peterson, MD, director of MarketPsy Capital LLC
The Importance of Context in Rich Multilingual Sentiment Analysis, with Acrolinx CEO Andrew Bredenkamp
Industry thought-leader Meta S. Brown will present Pathway to Cold, Hard, Measurable Sentiment Analysis ROI
Start-up innovator Jennie Lees, founder and CEO of Affect Labs, will present on Crowdsourcing Comedy Festival Sentiment
Modeling Sentiment in a Local Real Estate Market with Ben Gimpert, Altos Research LLC
Four technology and service providers will present in a unique session, Behind the Curtain: 4 Sentiment Approaches. Slated to appear are Jeffrey Catlin, CEO of Lexalytics, Amazon.com Vice President Sharon Chiarella, and Adam Pease of Rearden Commerce.
The program, slated for San Francisco's Bently Reserve, also includes a series of lightning talks, demo-presentations of new and innovative sentiment analysis tools, platforms, and solutions.
Attendees will also benefit from an exhibitors area as well as informal peer-networking opportunities. Symposium sponsors include text-analytics market leaders Lexalytics, Attensity, and NetBase.
The Sentiment Analysis Symposium is produced by Alta Plana Corporation. More information including registration details is available at http://www.sentimentsymposium.com. Registration by July18 qualifies for the Super Early Bird price of $695 (a $300 discount).
All sponsorship and media inquiries, contact sas(at)altaplana(dot)com or +1 301-270-0795.
About Conference Chair Seth Grimes (http://sethgrimes.com)
Seth Grimes is an analytics strategist with Washington DC based consultancy Alta Plana Corporation (http://www.altaplana.com) and a contribution editor at InformationWeek. He is founding chair of the Text Analytics Summit and the Sentiment Analysis Symposium. Grimes is the leading industry analyst covering text and content analytics. He consults, writes, and speaks on business intelligence, data management and analysis systems, text mining, data visualization, and related topics.
###