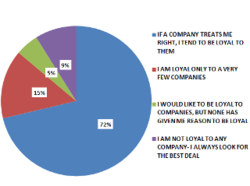 The American consumer understands the benefits of loyalty, of creating stable relationships with product and service providers. However, businesses are not delivering the levels of service to reap the rewards of loyalty for themselves
Atlanta, GA (PRWEB) July 20, 2011
Polaris Marketing Research Inc. announced today more results of its recent study of American consumer perceptions of customer service. Nearly three-quarters of American consumers (72%) say "If a company treats me right, I tend to be loyal to them." However, 26 percent say they are less loyal to companies than they were four years ago.
The findings were remarkably stable over demographic subgroups of the population. However, younger consumers (less than 50 years of age) are much more likely to be loyal to companies than older consumers, with older consumers more likely to be "looking for the best deal" rather than being loyal to companies.
"The American consumer understands the benefits of loyalty, of creating stable relationships with product and service providers. However, businesses are not delivering the levels of service to reap the rewards of loyalty for themselves," said Polaris President Jan Carlson.
Polaris conducted online surveys with a representative sample of 1,000 American consumers during the week of June 20, 2011.
Founded by Jan Carlson, Polaris Marketing Research is a full-service firm that provides state-of-the-art online interactive marketing research reporting, interviewing and data collection, quantitative and qualitative research expertise and personalized project management.
Atlanta-based Polaris Marketing Research is affiliated with the Council of American Survey Research Organizations, the American Marketing Association and the American Society for Quality.
# # #