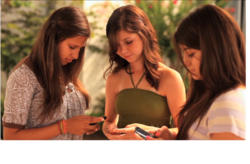 Ann Marie Fleming-Glick LMFT LPC, marriage and family counselor in the field for 30 years said, "Parenting in the digital age requires communication, close supervision and vigilance. SMS Tracker helps parents to monitor their children's online movement an
Dallas, TX (PRWEB) July 19, 2011
With SMS Tracker, parents now have a powerful partner to help keep their children safe in the age of instant communication. The rapid proliferation of smart phone usage by teenagers has given rise to risky and potentially life altering online activities. Gizmoquip SMS Tracker is designed to help parents fight back against often secret and toxic influences.
SMS Tracker offers a rich set of features that far exceeds simple cell phone tracking software, which only tracks GPS location information.
By installing SMS Tracker on their child's Android phone, parents can remotely monitor SMS Text messages, MMS Multimedia messages, call logs, browsing history and GPS location using any web browser. SMS Tracker intercepts and forwards phone use information to the SMS Tracker web portal where parents can remotely monitor the activity.
Ann Marie Fleming-Glick LMFT LPC, marriage and family counselor in the field for 30 years said, "Parenting in the digital age requires communication, close supervision and vigilance. SMS Tracker helps parents to monitor their children's online movement an
SMS Tracker is available in different service levels and prices depending on the needs of the parent. Parents can purchase individual services or discounted service bundles with prices as low as $1 per month for unlimited SMS text message tracking. Gizmoquip offers basic SMS tracking for free, with upgrades for as low as $2 per month. An unlimited full feature 7 day trial is also available at no charge.
Gizmoquip LLC is a Texas based software company that specializes in developing software products and services for mobile devices. Gizmoquip was founded in 2010 and released its first products for iPhone and iPod in Q3 of 2010 before releasing its first app the Android Market in March of 2011.
###