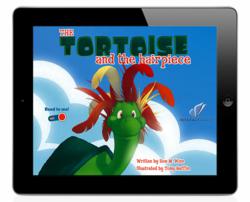 Children's authors and illustrators use InteractBuilder software to build creative interactive e-books for smartphones and tablets.
(PRWEB) July 20, 2011
InteractBooks, a publisher of innovative interactive children's e-books for smartphones and tablets, launched InteractBuilder last year to give talented illustrators/authors an easy-to-use software application to develop interactive children's books, with no programming skills required. Now, InteractBooks is holding a special contest to highlight the many imaginative ways that builders utilize the features of InteractBuilder's e-book software to make books for education and enjoyment. The Tortoise and the Hairpiece exemplifies the types of interactive e-books that can be created using the InteractBuilder software.
Contest entries are presently being accepted from authors/illustrators to find the three best interactive children's e-books built with the InteractBuilder software, which will be featured in the InteractBooks bookstore and prominently marketed. Entries for this contest will be accepted until September 18, 2011. The winners will be announced on October 1, 2011.
Winners will have their interactive book promoted in the InteractBooks bookstore within the InteractBooks app. It will be featured on the InteractBooks and InteractBuilder web site and promoted in a special press release as part of the official InteractBooks app launch. All entries into the contest will receive a free one-year publishing membership and earn 70% revenue on the sales of their interactive e-book.
They will also receive one of three special prizes: 1st Place wins a 16gb white or black WIFI iPad2 or $500 and also a free three-year InteractBuilder publishing membership; 2nd Place gets a 32gb iPod Touch or $200 and a free two-year InteractBuilder publishing membership; and 3rd Place goes home with a $100 Best Buy Gift Card and a free two-year publishing membership. All winners and every entrant with an accepted book that is published by InteractBooks receive a free one-year publishing membership in InteractBuilder, a $99.00 savings.
Ezra Weinstein, InteractBooks CEO, explains, "There are so many talented authors and illustrators who would like to take advantage of the burgeoning smartphone and tablet marketplace for interactive books but need an easy delivery platform that is cost-effective and allows them to bring their products to market rapidly without the high cost of developing an app from scratch. With the number of apps in the marketplace, these individuals can also use assistance with marketing, and we can help with their market exposure. Our exclusive focus on interactive books and uniquely dedicated interactive bookstore provides them with a marketplace where they won't get lost in an ocean of apps."
Using InteractBooks' InteractBuilder, a free downloadable Mac/Windows interactive book-building software, users can transform their ideas or already printed books into interactive books that can run on the iPad, iPhone, iPod Touch and, soon, Android devices. The many features available offer an excellent way for authors to acquire the tools to know how to make e-books.
The three top winners will be based on these criteria: 1) A theme that is enhanced for readers through interactivity; 2) A well-written script that is different from the norm; 3) Visuals and illustrations in keeping with InteractBooks' high-quality e-book standards; 4) The ability to leverage the technology of smartphone devices and tablets; 5) Effective use of music and sound effects; 6) Narration of text recommended but not required; and 7) An easy to read script by a child and/or parent.
More information is found in the official contest rules.
One contest judge is acclaimed author Don Winn, who transformed his print version of "The Tortoise and the Hairpiece" into an InteractBook. He is creator of the "Cardboard Box Adventures" series of interactive children's books, which teaches valuable lessons and offers discussion questions to help start conversations about important topics with children. The "Tortoise and the Hairpiece" clearly demonstrates the unique advanced interactive features that are available for making children's e-books through InteractBuilder.
Another judge is Mark Mitchell, who authors books for higher-level elementary school students that combine history, adventure, and storytelling and writes the blog "How to Be a Children's Book Illustrator." Teachers say that his illustrated books replace the typical dreary history texts with entertainment and well-written engagement. In addition, from the important "kids point of view," Josh Weinstein, age 10, will view the entries and lend his personal perspective on fun and usability.
About InteractBooks
InteractBooks strives to provide the highest quality children's e-books in an interactive format that takes advantage of touch-screen tablets and smartphone devices; the InteractBooks featured in the app are highly interactive. The InteractBooks app is available for free from the Apple iTunes App Store. Free children's e-books can be downloaded by browsing the InteractBooks Store directly from the app. The InteractBuilder, which works with the InteractBooks app, is an easy-to-use downloadable e-book software that helps authors learn how to make children's e-books that are highly interactive.
Contact Information:
Sharon L. Cohen c/o
InteractBooks/InteractBuilder
media(at)interactbooks(dot)com
512-537-0570
# # #