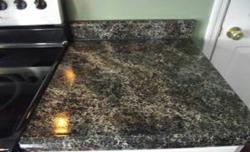 "When our Realtor came over yesterday, she swore we had purchased granite"
(PRWEB) July 18, 2011
Home improvement projects for kitchens, baths just got easier with new Granite Paint Kits by Giani™. Featured in Realtor® Magazine, over 250 blogs and The Early Show®, Giani™ Granite is becoming a new makeover favorite among homeowners and Realtors anxious to unload their current real estate for sale.
Bob Lipply, a top Real Estate broker associate of Tampa, Florida, agrees that, "While there's nothing functionally wrong with laminate, it's not what sells the home". His advice is to install granite countertops in the kitchen and bath in order to sell a home quickly.
If the expensive cost of granite doesn't fit the seller or homeowner's budget, Giani™ makes it easy to get the same look for less by enhancing the existing countertops of kitchens and any bathroom vanity with the new kits. For many stuck in this financial squeeze, paint kits help make countertops resemble granite styles for an affordable $69.95.
Homeowner, Celeste Blodgett explains that her kitchen was hurting her marketability. "We have had our home on the market for almost two years and the majority of "lookers" have said that we needed granite to polish off our home. I renewed all of the countertops with Giani™ granite paint instead, and when our Realtor came over yesterday, she swore we had purchased granite. She was so impressed, that she then scheduled an urgent all-agent tour for her Real Estate office at our house."
The average do-it-yourselfer can transform a typical L-shaped kitchen countertop (30-33 square feet) or bathroom vanity in one weekend with Giani™. The product provides the same functionality as the old laminate looking countertops but with the added style of granite. It is available in a variety of styles and kit colors including popular colors for kitchens and baths like Chocolate Brown, Sicilian Sand and Bombay Black.
Giani's website, Gianigranite.com, features many photos of user renovated kitchens, sent in by pleased customers wanting to show off their handy work. The site also provides access to local store locations and "Do-it-for-me Painters" that will come to a house and paint the existing laminate into a beautiful updated granite style. Whether the project is for home improvement renovations or real estate for sale, Giani™ Paint Kits will provide a home the extra glamour it needs to stand out from the crowd in this tough buyers market. For more information visit the website at gianigranite.com.
Contact Information:
Giani™
800-650-5699
gianigranite.com
###