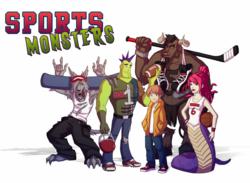 With new co-reading technology, 'Sports Monsters' represents a breathrough in the book/app reading experience.
Toronto, ON (PRWEB) July 14, 2011
PadWorx Digital Media Inc., a leader in innovative book/apps, announced today that it has been selected to receive generous development funding from the Canada Media Fund (CMF) as part of their 2011-2012 Experimental Stream for the project 'Sports Monsters'. Based on an idea by writer David Goulet, 'Sports Monsters' is an original book/app series that will be enhanced for collaborative reading between multiple tablet devices.
'Sports Monsters' is a sports-based series of stories about a twelve-year-old boy named Reggie Vanaych who loves sports but can't play to save his life. But that all changes when Reggie inherits a set of monsters from his monster-collecting ancestor, the original Dr. Van Helsing, Reggie discovers he now has the makings for the world's greatest All Star (and all monster) roster. The only thing Reggie needs to do is get everyone else to see his monsters as players, not slayers!
"'Sports Monsters' is more than a great story for kids about teamwork and friendship," says PadWorx CEO and Creative Director Jeffrey Alan Schechter. "We're also creating breakthrough technology to empower a co-reading experience. One kid reading 'Sports Monsters' is a great experience. Two kids is a party! We're thrilled that the CMF shares our enthusiasm for this innovative project."
So far this year the CMF has invested $4.3 million in development funds for 25 projects, with 'Sports Monsters' being one of only two projects that made the cut in Ontario. Projects were evaluated based on innovation, the production team, business plan, and distribution strategy.
PadWorx Digital Media was founded by Schechter, a two-time Emmy-nominated writer and producer, and Tod Baudais, a game developer and former head of software at STARZ Animation. PadWorx Digital Media's premiere releases, 'Dracula: The Official Stoker Family Edition' and 'A Christmas Carol for iPad', were both crowned 'App of the Week' by Apple with 'Dracula: The Official Stoker Family Edition' going on to win a 2010 Publishing Innovation Award from Digital Book World. Most recently, PadWorx completed an innovative storybook for EA's newly released game, Alice: Madness ReturnsTM and has begun work on the interactive version of the New York Times bestselling book 'Pride and Prejudice and Zombies.' 'Sports Monsters' is set for release in winter, 2012.
ABOUT PADWORX DIGITAL MEDIA INC:
PadWorx Digital Media, Inc., founded in 2010 and with offices in Los Angeles, California and Toronto, Ontario, is an independent developer of immersive book/apps for tablet PCs including Apple® iPad™. The development team is dedicated to combining proprietary technology and innovative ideas in order to create new ways for readers to experience entertainment and literature. PadWorx Digital Media's products are developed on their own proprietary game engine.
PadWorx Digital Media Inc Contact:
Brian Lynch
bl(at)padworxdigital(dot)com
647-342-1222
ABOUT THE CANADA MEDIA FUND:
The mandate of the Canada Media Fund (CMF) is to champion the creation of successful, innovative Canadian content and software applications for current and emerging digital platforms through financial support and industry research. The Canada Media Fund is a not-for-profit corporation that supports content creation for television and other digital platforms. Through the Experimental Stream, the CMF encourages the development of leading-edge, interactive, digital media content and software applications. For more about the CMF please visit: http://www.cmf-fmc.ca.
CMF Contact:
By Phone: 416-973-6436
###