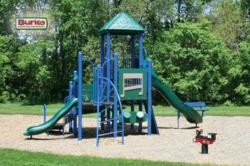 What makes this project truly unique are the partnerships created to complete the project
New Ulm, MN (PRWEB) July 16, 2011
The benefits of a free playground awarded to the New Ulm Parks and Recreation Department last summer keep multiplying as the project has been named a recipient of the 2010 Award of Excellence by the Minnesota Recreation and Park Association (MRPA) recently.
The New Ulm Parks and Recreation Department had been trying over a five year period to replace old and outdated playgrounds with safer ones and the playground give-away that playground manufacturer BCI Burke held could not have come at a better time. The good news came on the heels of the New Ulm Parks and Recreation Department struggling through nearly $380,000 in cutbacks since 2008.
"What makes this project truly unique are the partnerships created to complete the project," said Cheryl Kormann, assistant director for the New Ulm department. "The 3M Foundation, awarded a significant grant to help complete the project under the recommendation and guidance of plant manager, John Illikman, who helped organize the playground community build utilizing 3M workers and retirees," she added.
The comprehensive community effort also included New Ulm Park and Recreation staff, area neighbors, restaurant staff and local media.
The new playground, installed in North Market Park, dramatically improves play options for local children and families. Several day care agencies also use the park for recreation and exercise. The Nucleus play system includes more than 10 play events and has a capacity for 57 children ages 5-12. It features fitness-orientated activities that promote strength, balance, endurance and aerobic fitness.
The MRPA Awards Committee was created in 1987 with the purpose of acknowledging individual members and agencies for their excellence in the field of Parks, Recreation and Leisure Services.
BCI Burke, with headquarters in Fond du Lac, Wisc., is a premier manufacturer of commercial playground, park, and recreation equipment. More information is available at http://www.bciburke.com.
###