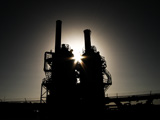 Plainsboro, NJ (PRWEB) July 15, 2011
The Oxford Princeton Programme, the world's leading provider of commercial education and training to the energy and derivatives industry, is pleased to announce the launch of its newest course:
Natural Gas Liquids
(Course code: NGL)
This course provides an introduction to the fundamentals of the natural gas liquids market. Natural gas liquid (NGL) processing is becoming an increasing important activity in the global energy market. NGLs have a variety of industrial and commercial uses and are being consumed in increasing quantities as both feedstocks and in consumer products.
In this web-based training course, participants will be introduced to NGLs and the gas processing operations used to efficiently separate high value end products (ethane, propane, normal and isobutane, and natural gasoline) from the raw natural gas stream. The different gas processing agreements currently used by market participants will also be explained as well as the advantages of disadvantages of these various contracts.
By the end of this course, they will be able to understand:

why it is necessary to treat "raw" natural gas
the impurities removed during gas processing operations
the different processes used to separate the various NGLs
applications for the various NGLs
2 CPE credits awarded for this course in North America. This course is CPD Accredited out of the UK. Delegates can print out a certificate upon successful completion.
This course can be purchased onsite or as part of a multiple voucher, corporate access, or licensing program,. For more details please contact wbt(at)oxfordprinceton(dot)com.
For more details and to register, please log onto http://www.princetonlive.com (Search: NGL).
Please contact Carol Patel for more information on this or any of The Oxford Princeton Programme's wide array of training options at (609) 524-1124 or cpatel(at)oxfordprinceton(dot)com.
ABOUT THE OXFORD PRINCETON PROGRAMME, INC.
The Oxford Princeton Programme, Inc is the world's leading provider of education and training to the energy and derivatives industries. In addition to PrincetonLive.com, which offers more than 30 energy and commodity web-based training modules, The Oxford Princeton Programme provides more than 250 instructor-led training courses annually worldwide. Designed for all levels of expertise, courses include views of oil, power, natural gas and a variety of other energy, commodity and derivatives topics. For a complete list of courses and for other information, visit http://www.oxfordprinceton.com.
# # #