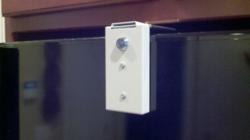 "Refrigerator Locks are great for locking controlled substances in nursing homes and hospitals. They also are a great addition to any student who wants to secure food in a dorm room."
Loganville, GA (PRWEB) July 15, 2011
Lucas Distribution, LLC, an Atlanta-based worldwide distributor of office products and equipment, launched a new lock used for securing the contents of mini refrigerators found in locations ranging from dorm rooms to nursing homes.
"We provide our customers with paper tray locks used to secure their printer paper trays," said Marketing and Sales Manager Dave Lucas. "We have modified our locks to now work on securing mini refrigerators. They are great for locking controlled substances in nursing homes and hospitals. They also are a great addition to any student who wants to secure food in a dorm room."
Also featured on the website is their secondary product line of hardware security solutions, paper tray locks, Dongle Lockboxes, laptop locks, hardware locks, file cabinet locks, locking wall mounts for TVs and monitors, LCD projector mount locks and tamper-resistant prescription paper. Lucas Distribution personnel are experts in locking printers, copiers and other types of office equipment.
The company has also expanded globally shipping to 25 countries throughout Europe, Asia, South America and Australia.
Lucas Distribution ensures fast response to customers' inquiries, high quality products, and personal service so clients spend more time running their business and less time dealing with suppliers. With years of experience, excellent customer service, and unique and high-quality products, trust Lucas Distribution as "Your Security Partner."
About Lucas Distribution, LLC
Lucas Distribution, LLC is a worldwide distributor of office equipment and security hardware used with printers and office equipment, (papertraylock.com). Lucas Distribution is one of the largest distributors of paper tray locks in the world and one of the nation's largest copier cabinet distributors for the Ricoh, Canon, and Toshiba product line.
Contact
Managing Partner
Gary Lucas, 770-554-5560
Gary(at)papertraylock(dot)com
Sales & Marketing Manager
Dave Lucas, 770-554-3560
Dave(at)papertraylock(dot)com
###