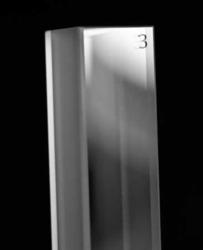 Researchers try to save their budget by using cheap cuvettes and wind up paying more in the end.
Farmingdale, NY (PRWEB) July 14, 2011
NSG Precision Cells introduces a high end quartz cuvette made from their unique ES brand quartz. No other quartz cuvette manufacturer in the world manufacturers their own quartz material, giving NSG a big advantage over their competitors.
NSG's high end spectrophotometer cuvette is available on their website under the Type 1 category. This superb cuvette has been a highly popular item and can be used for standard spectroscopy and as an absorption cuvette.
An NSG ES Quartz cuvette is vastly superior to the sub-par cuvettes that are being sold on the market today. NSG cuvettes are made in Japan meaning that buyers need not worry about getting a dirty cheap cuvette that won't be useable. Buyers of these low end spectrophotometer cuvette end up coming to NSG after wasting much time and money.
"I see it all the time" states Paul Woitovich, manager of operations at NSG Precision Cells. "Researchers try to save their budget by using cheap cuvettes and wind up paying more in the end."
Universities are having a hard time getting funds and purchasing items. Precision Cells heard about this problem and so they have been offering their high end spectrophotometer cuvette at a large discount. "We want to help researchers get their job done and we offer them prices that are much better than any other quartz cuvette manufacturer."
Sales representatives at NSG stress not buying cheap quartz spectrophotometer cuvettes, because all researchers have to look forward to is cuvettes that are scratched, dirty, have optical imperfections, and might not even work.
NSG has pulled out all the stops when manufacturing their high end ES quartz absorption cuvette. They use highly precise polishing equipment that produces the best possible optical finish. The spectrophotometer cuvette is then assembled in a clean room to avoid any kinds of dirt, dust, or other various particles from damaging the quartz. The assembly is done using fire fusion, a unique bonding method that only a handful of cuvette manufacturers can perform. And finally these high end cuvettes are inspected by a trained team of specialists who go over every millimeter of the cuvette to ensure there are absolutely no optical or physical defects.
About NSG Precision Cells:
NSG has been in the quartz cuvette manufacturing industry for over 50 years. They have expanded their manufacturing capabilities by adding new updated machines to their production line.
NSG is well known among the scientific community and they are a trusted name among hundreds of Universities.
###