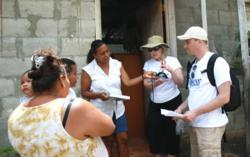 I am truly thankful to you...Thank you.
(PRWEB) July 22, 2011
Home to extended family of our good friends in Bomba, Corozalito is a small hardworking village off the Old Northern Highway running up the east side of Belize. Totally dependent on Kerosene for light, the families of Corozalito will now have safe solar powered LED lighting for reading and studying at night.
Residents from Bomba, Belize were proud to join us on this trip to Corozalito to share their experiences with solar powered light. We are slowly bringing villages together. This was a simple solution we were proud to provide at no cost to the residents of Corozalito.
Grid Earth, an Austin based US organization, has a simple mission:
To save lives, improve health and educational conditions, and stimulate economies in underdeveloped areas of the world by providing solar-powered household lighting and increased opportunities for commerce.
And our vision:
To see the quality of life around the world improve through the increased use of safe, clean and efficient sources of energy.
There is now one more village using clean, sustainable & safe lighting. Grid Earth would like to extend a special thanks to the Belizean Ministry of Rural Development, LEDtronics, Inc. and to the people of Bomba Village.
###