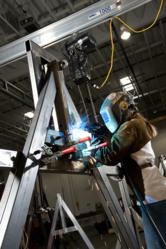 Morgantown, PA (PRWEB) July 18, 2011
The American Welding Society (AWS) has awarded the prestigious designation of Certified Welding Fabricator to crane manufacturer SPANCO, Inc. and to Rigid Lifelines, the fall protection products division of SPANCO, Inc.
SPANCO and its Rigid Lifelines Division are honored to receive this certification, which is reserved for companies that have demonstrated the resources, procedures, and personnel needed to apply a quality management system to their welding fabrication activities.
From heavy-duty overhead cranes to the most advanced selection of fall restraint systems, customers already trust SPANCO, Inc. and its Rigid Lifelines Division to provide them with top quality products to address their industrial lift and fall-prevention needs. With AWS certification, that reputation for quality and reliability are further reinforced—ensuring that SPANCO's welds are as strong as its reputation.
As AWS Certified Welding Fabricators, SPANCO, Inc. and Rigid Lifelines are held to the highest industry standards, assuring that both SPANCO and its Rigid Lifelines Division are more prepared than ever to meet the needs and demands of today's customers. All are encouraged to visit SPANCO's recently updated websites (http://www.spanco.com and http://www.rigidlifelines.com) for more information on the complete line of cranes, lift equipment, and fall-protection products.
###