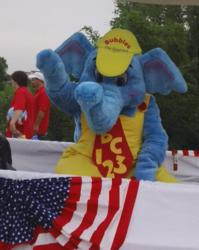 Parents can rest assured that The Learning Experience learning environment is warm, friendly, stimulating and fun.
Lewis Center, OH (PRWEB) July 18, 2011
The 4th of July parade in Lewis Center featured the local debut of Bubbles, mascot for The Learning Experience, the area's new premier child care provider. Bubbles was a big hit with the Lewis Center children as he and his team distributed beach balls and miniature bubbles. In return Bubbles was showered with smiles and blowing kisses from his new fans.
The Learning Experience is the less stress, better choice child care for children ages six weeks to five years. TLE is focused on quality care in a fun, dynamic educational setting for children, while relieving the worries of parents.
"It's so stressful trying to balance both your family and your work. We're trying to help families minimize that stress," says owner Margot Suszek. Open year round from 6:30 am until 6:30 pm, The Learning Experience is perfect for working families or any parent wanting to start their child off with a great social and educational experience.
TLE provides area families with a dynamic accelerated curriculum that fosters creative thinking and problem solving skills along with developing language and listening skills. Studies show TLE's proven programs, like Fun with Phonics, help their children achieve the highest level of academic success. By age 4 ½ over 90% of TLE children are reading.
"Working families need childcare more than anyone," says co-owner Diana Dimitroff. "It is so important for parents to know that while they are at work their children are in nurturing, loving hands." With TLE's open door policy, parents are able to check on their child any time of the day. Parents can rest assured that TLE's learning environment is warm, friendly, stimulating and most importantly, fun.
At The Learning Experience, they truly believe what is good for one child is good for all children. That's why tuition is all inclusive. In addition, parents can receive discounted rates on their children's tuition fees with the "Work and Family" program. As Diana says "This program allows working families to choose exceptional childcare without worrying about the price tag – and that's priceless."
For more information please call Diana Dimitroff or Summer Cremeans at 614-781-4600, or e-mail lewiscenter(at)tlechildcare(dot)com
The Learning Experience
Lewis Center / Polaris
Phone: 614-781-4600
Web site: http://www.thelearningexperience.com
E-mail: lewiscenter(at)tlechildcare(dot)com
###