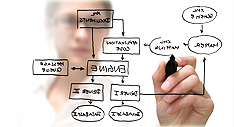 It is an honor to be recognized as a leader in managed IT services in South Florida. We remain committed to excellence and innovation in the information technology industry.
Hollywood, FL (PRWEB) July 15, 2011
Connections For Business, a managed IT services Company based in Florida, has been nominated as small business of the year by the Hollywood Chamber of Commerce.
Many businesses, both small and large, tend to struggle with IT decisions. They find it hard to decide on the appropriate infrastructure and often make expensive mistakes when it comes to IT implementation.
A wrong decision can cause adverse repercussions throughout the entire organization. All sorts of work flow and communication problems begin to arise. Important business functions such as email or network connectivity may experience more down time than necessary. As a result, instead of improving productivity, companies start to experience reduced productivity. Man hours are lost just to troubleshoot and correct IT issues.
Connections For Business offers a full range of IT services for both small and large companies. The well qualified staff at Connections understands that companies may be at different stages. Some companies may have no IT infrastructure at all. Others have partial infrastructure implemented, but are experiencing problems. Then there are those who require regular maintenance for their existing IT networks. So Connections came up with different solutions to cater to the needs of different clients.
1) Proactive Technology Management.
This is a proactive approach and Connections will work actively with clients to improve on existing systems. Tasks involve patching systems, documentation, installing anti-virus software or conducting remote backup of data.
2) Network Administration.
Businesses without the right resources can face a lot of problems with network administration. Connections can advise clients on industry best practices. They can also generate centralize service reports for clients to review their current practices.
3) Strategic Consulting.
Business owners can count on Connections to be their strategic business partner. Strategic planning involves coming up with a Technology summary (great for review purposes), conducting budget planning, and considering the business impact of IT decisions. Connections encourage all high level executives to participate in this process.
4) Reactive Support Services.
It is very costly for a business to undertake IT support on its own. For this reason, businesses should consider outsourcing support services to professional IT companies such as Connections For Business. Reactive support includes help desk support, on-site support, troubleshooting, and more. The Company even goes as far as installing customer portals for faster response time.
Nominated as Small Business of the Year by Hollywood Chamber of Commerce
Such commitment and dedication didn't go unnoticed.
Besides offering a comprehensive range of IT services, Connections For Business also take pride in providing cutting edge technology such as cloud computing to its clients.
For the reasons above, the Company is recognized for being a top provider of quality IT services by the Hollywood Chamber of Commerce. It has been nominated as Small Business of the Year for the year of 2011.
The Hollywood Chamber of Commerce is an organization that represents and promotes local business interests.
"In a highly competitive industry, we are proud to be nominated by the Chamber," said a spokesperson from Connections For Business. "It's an indication that our hard work and dedication is being recognized and we are proud and happy to be named a nominee for the Small Business of the Year award."
For more information on IT managed services such as data backup, please visit the Company's official website at http://www.connections.com
###