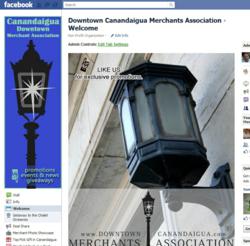 "Facebook is definitely where people hang," Don Stevens says, marketing chair for the association. "Residents and tourists who love Canandaigua can now keep tabs on their favorite merchants, and get rewarded as well."
Canandaigua, NY (PRWEB) July 15, 2011
The Canandaigua Downtown Merchant Association request shoppers to like their Facebook page. They are so sure that people will, they are now offering fan rewards to Facebook users who follow their feeds.
"Facebook is definitely where people hang," Don Stevens says, marketing chair for the association. "Residents and tourists who love Canandaigua can now keep tabs on their favorite merchants, and get rewarded as well."
The Facebook fan page now offers rewards such as drawings, giveaways, special offers, and invitations. Canandaigua merchants can now become "featured merchants," and have their own designated app on the association's Facebook page.
All users have to do is "Like" the page and take advantage of the rewards being offered. Rewards are unexpected, ranging from a special invitation to a party, a new product preview, discounted gift certificates, or an exciting giveaway. The first giveaway is an overnight stay at the luxurious Chalet of Canandaigua Bed and Breakfast. There is also a merchant photo showcase, which highlights a slideshow of a featured merchant's business, and there is more to come. Fans are expected to take advantage of rewards and share them with their friends and family as well.
The association already uses Facebook actively to announce merchant news, events, happenings, and create polls and surveys. Users are familiar and depend on the newsfeeds for up to date information, and the fans are growing. Merchants will rotate to become featured and the rewards will change, enticing users to stay connected with Facebook.
Visit the fan page at http://www.facebook.com/canandaigua
###