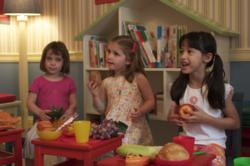 The Carousel of Languages is the doorway to global citizenship!
New York, NY (PRWEB) July 19, 2011
Buongiorno! Bonjour! Buenos Dias! Ni Hao!
"The Carousel of Languages is the doorway to global citizenship!" declares Peter Maulik, father to Meara (3) who attends the Italian extended day program.
The Carousel of Languages offers lessons in Italian, French, Mandarin and Spanish for infants, toddlers and young children and expands to the Upper East Side in the landmark Carnegie Hill district, at 1300 Madison Avenue and at 144 West 72nd Street between Columbus and Broadway, in the heart of the Upper West Side.
Carousel methodology is based on verbal, visual and tactile associations; a multi-sensory learning system. The Carousel Teaching System was created to address early childhood themes and standards. Founder and President, Patrizia Saraceni Corman, developed the teaching system in collaboration with her global team of native teachers, educators, linguists, music composers, illustrators, and graphic designers. The Carousel Teaching System allows for any language to adapt to the educational needs and requirements of preschoolers.
"Most important is our quality of teaching, materials used and the Carousel environment. The magical and nurturing classroom is a carousel of sounds, colors, textures and spirit of foreign language that engages each child from the moment they arrive." Saraceni Corman explains.
The profound educational advantage and intellectual stimulation of learning a foreign language at a very young age are invaluable. Studies on brain development indicate that early exposure to more than one language builds a more powerful brain.
Here is what families are saying about Carousel:

"The process of learning a second language has made our daughter more curious and adept to
spelling, reading, and learning other languages and cultures." ~ Jeremy, father of Ginger Fe (3)
"The Carousel of Languages provides a carefully thought out and age-appropriate teaching
pedagogy." ~ Hanna and James, parents of Daniel (5), Nicholas (3) and Nathaniel (1)
"There is nothing like listening in on a class and hearing Owen participate in a conversation in
Mandarin." ~ Ann and Ben, parents of Owen (5)
For over 12 years, The Carousel of Languages has been enriching the minds and spirits of young children, in their most brilliant stage of development, through the beauty and discovery of foreign language.
Come be a part of Carousel's enchanting world of language and culture for children!
To learn more please visit http://www.carousellanguages.com
or call 212-501-8524
East Side: thomas(at)carousellanguages(dot)com
West Side: annie(at)carousellanguages(dot)com
GRAZIE! MERCI! GRACIAS! XIE XIE!
###