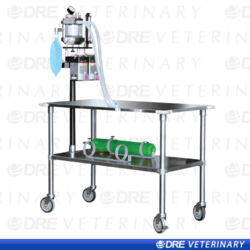 Louisville, KY (PRWEB) July 15, 2011
DRE Veterinary, a premier veterinary surgery equipment supplier, has expanded its already impressive catalog to include a new combination gurney and anesthesia machine that is sure to simplify procedures at any veterinary facility, from a local veterinarian's office to the largest university or research facility.
The Stainless Steel Gurney with Anesthesia Machine, sold exclusively through DRE Veterinary, consists of a high quality, durable mobile gurney designed specifically for the DRE Premier XP anesthesia machine. This combination offers several options so the equipment can be customized to suit the needs of any facility.
This new product is a high-quality, efficient solution for veterinary use. Essentially a mobile operating room, the Stainless Steel Gurney with Anesthesia Machine is perfect for transferring patients to and from exam, prep, surgery and MRI quickly and easily. It prevents the crowding caused by two or more people maneuvering down narrow hallways, pushing equipment alongside one another. The combination saves space and time and is great for dogs, cats, pigs, non-human primates and other animals.
The gurney is constructed of heavy duty 16-gauge, type 304 stainless steel. It includes a welded shelf at a height of 18" from the floor. This shelf is designed to carry canisters of anesthesia gas. The legs of the gurney are constructed of 1.5-square-inch stainless steel and feature rolling bumpers and NSF-Approved, heavy-duty 5-inch-diameter casters, two of which have locking brakes. The length and width of the table are determined according to customer specifications, for the ultimate in customization.
The DRE Premier XP anesthesia machine is mounted securely to one end of the gurney. This anesthesia machine may be customized with options to suit the customer's needs, such as single or dual vaporizers. Other options include a Bain circuit adaptor for non-rebreathing applications on animals under twelve pounds, an F-air canister and holder for scavenging, and e-tank holders positioned on the lower shelf of the gurney. Additionally, an anesthesia ventilator such as the DRE AV800 or the DRE Bonair can be added to the gurney. Both the AV800 and the Bonair have battery back-ups, making them equally as mobile as the other elements of this equipment configuration.
Find additional details about all of DRE's equipment at http://www.dreveterinary.com.
About DRE Veterinary
DRE Veterinary is a premier supplier of veterinary and laboratory research equipment. DRE Veterinary provides new and refurbished veterinary medical equipment to universities, surgery centers, research facilities and veterinary practices around the globe. DRE Veterinary's parent company, DRE Inc., was established in 1984 and offers value to doctors by providing the features and reliability they need while fitting within their budget.
###