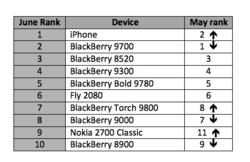 Milpitas, CA (PRWEB) July 14, 2011
After repeatedly falling second to BlackBerry, a surge in views this month meant the iPhone was crowned as the top device in global video views, according to Vuclip's July 2011 Global Video Insights Report. Vuclip, the world's largest independent mobile video service, released June rankings for the most popular videos and the top devices used to watch those videos based on its 360 million monthly global video views.
Despite the media frenzy in the US over all things Apple, the iPhone has been playing catch-up to RIM and Nokia devices when it comes to video consumption in the rest of the world. But this June iPhones overtook RIM as the top smartphone for video consumption, as measured by aggregate total video views by device.
The iPhone was boosted by growth in specific regions. Here are some highlights about global iPhone use from the June report:

The iPhone has become the leading smartphone for mobile video in Saudi Arabia and United Arab Emirates – two of Vuclip's top 10 countries for mobile consumption.
The iPhone is also the top device in Singapore – where both the iPod Touch and the iPad were on the list as the top 10 devices for video consumption.
The iPhone is now the top device in China due to consumption of local movie and TV content.
"July marks a major inflection point in the smartphone race," Nickhil Jakatdar, CEO of Vuclip, said. "While we know Apple is a media darling in North America and Europe, it's interesting to see that it's now become an increasingly popular smartphone in international markets in terms of mobile video consumption."
Here are the top 10 devices, ranked by number of video views, globally for June 2011:
1 iPhone
2 BlackBerry 9700
3 BlackBerry 8520
4 BlackBerry 9300
5 BlackBerry Bold 9780
6 Fly 2080
7 BlackBerry Torch 9800
8 BlackBerry 9000
9 Nokia 2700 Classic
10 BlackBerry 8900
For more information on the top devices for each country, go to http://www.vuclip.com/videoinsights.html
Top mobile videos:
In addition to collecting data on top devices used for watching videos, Vuclip's monthly Global Video Insights Report also looked at the top videos watched in each country. The results proved, once again, that people look to viral videos to amuse and entertain – and a cute animal doesn't hurt! The top video in the UK, Mexico, US and Venezuela (and also the most watched video globally) was of a dog dancing the Flamenco. The other amusing animal video to reach the top 10 globally showed a lioness trying to eat a baby through protective glass at the zoo.
Here are the top 10 videos ranked by number of video views:
1. Chihuahua dancing Flamenco
2. OMG Reversible | Transformable Fashion by Ximena Valero
3. South African Idol "Killing Me Softly - The Remix"
4. Old Man Invades Interview (Makes Animal Noises)
5. Hojiak – Hokkien Song KTV
6. Meiji (Chocolate House)
7. Man Gets Run Over By Two Trucks
8. Summernats 23 - UCSMOKE Qualifying Burnout FIRE!
9. Team Hot Wheels – The Yellow Driver's World Record Jump
10. Lioness Tries To Eat Baby at the Zoo
Here are the top videos for Vuclip's top ten markets in June (in alphabetical order):

Brazil – Sexy Stripes
India – Kama Sundari Hot Scene
Indonesia – Korea's Got Talent Sung-Bong Choi
Mexico – Chihuahua dancing Flamenco
Philippines – Flirting to a blonde
Saudi Arabia – Old man invades interview
Singapore - Hojiak - HOKKIEN SONG KTV
UK – Chihuahua dancing Flamenco
US – Chihuahua dancing Flamenco
Venezuela – Chihuahua dancing Flamenco
To find out more about viral videos, check out Vuclip on Twitter: @Vuclip.
About Vuclip:
For millions of people around the world, Vuclip is an essential part of their daily lives. Vuclip serves video on-the-fly, on any device, and in any country, providing unparalleled reach for its partners. Every day Vuclip delivers more than 12 million videos to consumers in over 200 countries. Vuclip is headquartered in Milpitas, California with offices in Los Angeles, Singapore, Delhi and Beijing. Check out Vuclip on your phone: m.vuclip.com
Press Contact
Alice Joy
VSCpr for Vuclip
alice(at)vscpr(dot)com
415.677.9125 ex. 207
###