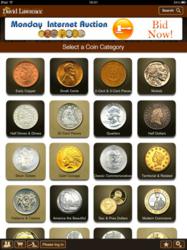 The David Lawrence Rare Coins iPad app is an industry first. Over 2000 PCGS, NGC & CAC certified coins are available for browsing, buying & bidding.
Virginia Beach, VA (PRWEB) July 15, 2011
David Lawrence Rare Coins, one of the leading rare coin dealers in the country, is also the first to offer a customize app for the Apple iPad. Over 2,000 certified U.S. coins are available for browsing, buying and bidding.
David Lawrence continues to lead the industry with this app, which is the first of its kind in the coin industry. Designed to take advantage of the best features available to tablet-device users, the app offers touch scrolling, visual browsing, as well as streamline bidding and buying functions. According to John Feigenbaum, DLRC President, "the first day I saw an iPad I knew this format would make an excellent companion to our web site. iPad users will love our interface, which offers advantages even to our regular we site. At David Lawrence, we've always embraced technology as one of our great strengths, and being the first out with an iPad app is really exciting and gives us plenty of time to make improvements based on customer feedback."
John Brush, Senior Vice President of Numismatics, adds, "Of course, a wide selection of great collector coins is more important to coin collectors than a fancy app, and we are proud to continually offer on of the deepest inventories in the entire industry. Today we have over 2,000 certified U.S. coins in stock and available for sale or bidding. The app makes it easier than ever to browse our extensive inventory of — all certified by PCGS or NGC, and many with CAC-approval!"
More information can be found on the David Lawrence site, or directly at the Apple iTunes store page.
###