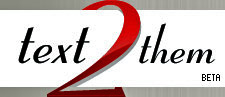 This new technology, the first to allow students to respond to text alerts, makes all current campus text alert systems obsolete.
Laurel, MD (PRWEB) July 15, 2011
In the aftermath of 9/11 and the VA Tech massacre, most colleges created text message alert systems to notify their students when emergencies occur. These systems sit on the shelf waiting to be used, and at the same time, hoping they will never be needed. In the event of an emergency these systems offer little support, other than to inform and alarm parents and students, since they don't provide an opportunity for anyone to respond.
According to the Federal Communications Commission, "During the 2007 Virginia Tech campus shooting, students and witnesses desperately tried to send texts to 911 that local dispatchers never received. If these messages had gone through, first responders may have arrived on the scene faster with firsthand intelligence about the life-threatening situation that was unfolding."
This patent pending, two-way text messaging technology will change the way college campuses and others responsible for emergency alert systems, view their text messaging systems," says Alvin Butler President/CEO of Evolve Mobile. In addition, this new technology allows students to report incidences to campus security even without receiving an alert first. By simply sending a text message, students are able to discreetly report incidences such as drugs, assaults and other campus or dorm security issues by two-way text chat. This provides students with a pro-active method of privately reporting dangerous activities on campus, a critical element of campus security.
More Than Security
Evolve Mobile takes texting uses beyond just security, and establishes a two-way text chat communication system that the school can use in all aspects of campus communication, not just security. This same system is used to reach admissions, athletics, administration or any other department by text message and engage in a two-way text conversation.
Evolve Mobile Communications, Inc. plans to install these two-way text alert systems on college campuses during the fall of 2011, making current campus one way broadcast alert systems obsolete. Evolve Mobile also plans a rollout of other two-way texing systems for business, homeland security and other industries in the near future.
With the rapid growth of text messaging, we believe every organization will eventually allow consumers to reach them by text. It is simply a matter of when. With Evolve Mobile Communications, Inc. new Text2Them, the when becomes now.
For more information:
Alvin Butler, President/CEO
Evolve Mobile Communications, Inc.
dba/ Text2Them
Call 301-262-7574
http://www.text2school.com
# # #