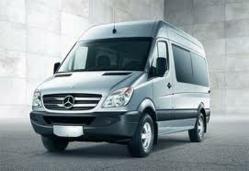 Riverside, CA (PRWEB) July 19, 2011
When shopping for a new vehicle, some people want sport, some value economy, and some long for luxury. It's no different when shopping for a handicap van or vehicle. Your lifestyle is just as important as your mobility needs. If you're someone who values performance and luxury, the Mercedes Benz Sprinter might be the right wheelchair van for you.
First introduced in 1995, the Mercedes Benz Sprinter has evolved beautifully. Once you choose your colors, the rest of your mobility van will be completely customized for you. The best part? The conversion will not structurally modify the integrity of the van. With this luxury handicap van, you'll experience:
Innovative safety features you expect from Mercedes: Tremendous fuel economy with its BlueTEC diesel engine, Accessibility with best-in-class side sliding door and full standing interior room, Seating for up to 12 people, and Adaptive Electronic Stability Program (ESP)®, which combines ABS, Acceleration Skid Control, Load Adaptive Control, electronic brake force distribution, Brake Assist, Roll Over Mitigation, and understeering control. Many Lift and Restraint Options.
The Sprinter can be outfitted with many different kinds of wheelchair lifts and quality restraint systems, including: Slide-Away Wheelchair Lift: This sliding platform lift slides out of the way to allow unobstructed side door and passenger door use; S-Series Commercial Wheelchair Lift: This lift is perfect for commercial use. It's quiet, compact, and lightweight, and includes handrails and occupant safety belts; The EZ Lock Wheelchair Docking System: This system is perfect for people who use their wheelchair as seating while in the vehicle. EZ Lock securely locks the wheelchair to the floor; AL700 Titan Series Systems: These systems provide a clean, low profile design with yellow "locked" indicators and retractable blue webbing, which keeps the floor clear.
Better Life Mobility Will Customize Your Mercedes Benz Sprinter Better Life Mobility is proud to offer the completely custom Mercedes Benz Sprinter Mobility van, with nationwide shipping. We'll customize the interior to fit your individual needs, whether it's luxury or mobility. We also can service your van at any of our three locations: San Diego, CA, Las Vegas, NV, and Riverside, CA
The Mercedes Benz Sprinter is an indulgence you won't regret.
ABOUT BETTER LIFE MOBILITY
A family-owned business, Better Life Mobility is a leading California-based retailer of full size vans, minivans, trucks and luxury vehicles as well as scooters, wheelchairs, lifts and ramps for the mobility market. Founded in 1997 in Riverside, California, the family-owned company has since expanded to include stores in San Diego and Las Vegas.
Today, the company continues to grow based on two philosophies: 1.) that people, not profit, are the key to success and 2.) that people with disabilities deserve a better life, a life without limitations. For more information, call Mo Abusham at (619) 474-4072 or visit http://www.betterlifemobility.com.
###