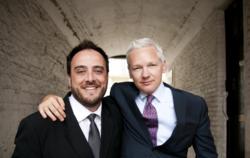 London, England (PRWEB) July 15, 2011
After being granted an exclusive photo shoot with WikiLeaks Editor-in-Chief Julian Assange in late June, Nashville-based photographer Allen Clark was invited by Assange to return to the United Kingdom to document his July 10th fundraiser and 40th birthday party at Ellingham Hall, as well as the days leading up to his extradition appeal hearing which has been a global news story in recent days.
The birthday event served as a fundraiser for WikiLeaks with auction items ranging from his prison card to fine cigars and Clark's portraits of Assange, which he signed. While the guest list has been kept private, the exclusive images from the party are available through Retna Ltd.
"I was invited by Julian Assange to be the official photographer for his 40th birthday party and fundraiser," says Clark. "Additionally, Julian asked me to photograph and document his appeal trial at the HIgh Court in London over the 12th and 13th of July."
Clark accompanied Assange to and from court this week, where lawyers are appealing extradition to Sweden to face charges that he committed multiple sexual offenses. According to Clark, Assange adamantly denies the charges.
"The access that Julian has given me is unprecedented," adds Clark. "I hope these images show a side of Julian that most people don't get the opportunity to see."
The photos are available through Retna Ltd. Contact: Jennifer Currell, 212-255-0622 ext. 217 or jenniferc(at)retna(dot)com.
For more information about Allen Clark, contact Brian Mayes at 615-771-2040 or brian(at)nashvillepublicity(dot)com.
About Allen Clark
Allen Clark's photo credits include chart-topping recording artists like Dave Matthews and Imogen Heap, as well as prominent national figures including Walter Cronkite, President George H. Bush and President George W. Bush. The Nashville-based photographer's work has appeared in such publications as Rolling Stone, Forbes, Guitar World, Mademoiselle, PEOPLE, Christianity Today, Wired, TIME and many more. Visit Allen Clark's official website at http://allenclarkphotography.com/.
# # #