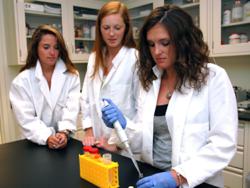 Students will see firsthand how business leaders partner with non-profit research institutions to develop products and grow their companies."
Biddeford, ME (PRWEB) July 15, 2011
Working alongside UNE undergraduate mentors and faculty in the Center for Excellence in the Neurosciences(CEN), a select group of two high school and five college students are learning how discoveries in UNE research laboratories are being developed as potential treatments for neurological and psychiatric disorders. During the 11-week program (running through August 18), the students study the principles of neuroscience and pharmacology, translational biomedical research and entrepreneurship.
The program was developed under the leadership of Ed Bilsky, Ph.D., director of the CEN and a professor of pharmacology in the UNE College of Osteopathic Medicine. Dr. Bilsky is a co-founder of two Maine-based companies that are developing treatments for chronic pain and addiction. He also works closely with biotechnology and pharmaceutical companies, including several that are also Maine-based.
Bilsky is a passionate advocate for research and entrepreneurship. He says, "UNE's summer intern program combines a taste of research with in-class lectures and presentations by Maine business leaders that enrich the research activities. Students will see firsthand how business leaders partner with non-profit research institutions to develop products and grow their companies."
The genesis for the program came out of conversations with David Anderson, a serial entrepreneur and businessman, and Brian Dallaire, a pharmaceutical scientist and president of Lighthouse Clinical Development. Bilsky added, "The program is intended to address some of the key recommendations of the 2010 Maine Science and Technology Action Plan and is in line with the goals of the Maine Technology Asset Fund awards made to the university." Financial support for the program was provided by The Pond Family Foundation, as well as by donations from Anderson, Bilsky and Dallaire. Anderson and Dallaire are also UNE trustees.
Students benefit from an active seminar program that includes internationally known scientists as well as business leaders in the state of Maine. Speakers include Skip Irving, partner and managing director of Health Advances Biotechnology, and Jacquelyn B. Cawley, D.O., senior medical director of Maine Health, among others. Students also read academic papers written by the speakers, and participate in interactive group discussions with them after their lectures. A capstone event scheduled for August 10 features a keynote address by noted Maine neurosurgeon and entrepreneur Dr. Lee Thibodeau.
The interns are partnered with UNE undergraduate student mentors who are involved with research activities in Dr. Bilsky's lab. They are also conducting literature and patent searches and will prepare and present a capstone project at the end of the program.
Says Anderson, "Our goal is for students to better understand what it takes to successfully identify a problem, come up with potential solutions and then bring the concept through the development process to the point that it can benefit society." He adds, "This appreciation is important whether the student pursues a career in research, medicine or business. Ultimately, these skill sets will benefit Maine's economy through new startup companies, accelerated product development and successful transitions to sustainable businesses in the state."
Intern Hannah Clarke, a senior neuroscience major at Middlebury College who plans to become a doctor, says, "I love the entrepreneurial aspect of UNE's internship program, and the wide range of research opportunities. UNE is a step ahead of a lot of other schools with this approach. It allows me to stretch my mind and apply what I'm learning to the business and creative sides of research."
About University of New England
The University of New England is a top-ranked independent university with two distinctive campuses located in the coastal communities of Biddeford and Portland, Maine. Named one of the best regional universities in America by US News & Report, UNE is a leader in health sciences education, biomedical research, and the liberal arts, offering student-centered, interdisciplinary programs in the College of Osteopathic Medicine, Westbrook College of Health Professions, College of Arts and Sciences, College of Pharmacy, and College of Graduate Studies. UNE is the leading provider of healthcare professionals in Maine; it offers more than 40 undergraduate, graduate and professional degree programs and has internationally recognized scholars in the liberal arts, sciences, health and medicine. For more information, visit http://www.une.edu.