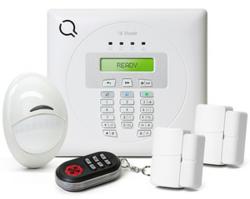 You can set this system to be controlled by a web browser from anywhere in the world through an internet connection, including mobile phones like the iPhone, Blackberry or Android OS.
Riverside, CA (PRWEB) July 14, 2011
As consumers become more cost-conscious, Home Security Store is offering the best home security solution with maximum features at an affordable price in its new exclusive Visonic PowerMax Design Wireless Alarm System, says Home Security Store Vice-President Ralph Winn.
"The PowerMax Design was developed by Visonic and Home Security Store specifically to meet this growing market need. By leveraging its extensive experience in the field of professional security systems, Visonic created a self-contained panel that provides the ideal balance between affordability and performance" said Winn.
This small new panel – unique among its size class – has a standard built-in PSTN communicator and offers the flexibility to add an internal, field-upgradeable GSM / GPRS communication module, says Winn.
Winn adds that the solution can be extended further with a wide range of accessories and expansion options. The panel supports 28 wireless zones and 1 hardwired.
"This means that no matter how large your space is, you can integrate various motion, flood and smoke detectors, window and door contacts, sirens, additional keypads, and more," said Winn
Plus, according to Winn, what really makes this system unique is that it features 8 different colored skins, which the user can apply on the control panel to highlight the keypad. These vibrant colored choices include brown, baby blue, canary, ivory, slate, gun metal, silver and evergreen. "This means you can match your alarm kit to virtually any style, and color décor within your home."
Visonic President Mark Ingram says that Visonic worked closely with the Home Security Store team to develop a security kit that goes far beyond the term user friendly, "With esthetics in mind Ralph Winn wanted a kit that was not only technically simplistic, but would also meet the demands of an informed DIY consumer."
According to Visonic, the Design can be installed and programmed in less than two hours – that's half the time of traditional security panels.
"Since the system comes out of the box ready to go and the devices are labeled with where they are installed, it truly is almost 100% pre-programmed. The end user adds some information dedicated to the residence and it is done," said Ingram.
Winn adds that the wireless Design security system can report burglar alarms, fire alarms, and panic alarms via the telephone or Internet messaging to you, or can be professionally monitored by any alarm monitoring company. "Plus, with the PLINK2 board Internet module connected to your home network, the system can be controlled by a web browser from anywhere in the world through internet connection, including mobile phones like the iPhone, Blackberry or Android OS," said Winn.
The Design is also capable of home control and surveillance. "By connecting it to the PowerLink add-on and PowerLink cameras you can have those cameras monitor in and around your property," concluded Winn.
"We work closely with the Home Security Store as a valued partner. Home Security Store wanted something to support their clients with a system that has a unique feature set and design. As we all know, there is a segment of consumers that are much more tech savvy than ever and these are the clients that the Home Security Store caters to," said Ingram.
###