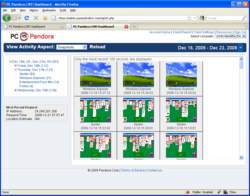 "[This film] has a valuable message that parents and kids should let sink in. We will also be doing some live blogging during the movie and encourage parents to chime in and comment with their thoughts.
Las Vegas, NV (PRWEB) July 15, 2011
This weekend, ABC Family will premier its original movie, "Cyberbully." Pandora Corp., maker of PC Pandora computer monitoring software, is urging parents to tune in to the film, and follow the simultaneous live chat event at http://discussion.pcpandora.com.
"We want parents to make it a mandatory family movie night and sit with their kids to watch this important film," says co-founder Jamie Leasure. "It has a valuable message that parents and kids should let sink in. We will also be doing a live chat during the movie's airtime and encourage parents to chime in and discuss their thoughts on the film and this national epidemic."
"Cyberbully" premiers Sunday, July 17, at 8PM Eastern/7PM Central on ABC Family. According to ABC Family, the two-hour original movie follows 17-year-old Taylor Hillridge (Emily Osment, "Hannah Montana"), who becomes a victim of online bullies after receiving a laptop for her birthday and joining a social network online. Taylor begins to withdraw from her friends and family, as she becomes obsessed with the slurs and horrible things being said about her on the Internet. Pushed to the braking point, a life-changing event makes her realize she is not the only one to suffer at the hands of an online tormentor.
The film also starts Kay Panabaker ("No Ordinary Family") as Taylor's best friend and Kelly Rowan ("The OC"), as Taylors mom, who challenges the school and state legislators to help prevent future victims of cyberbullying…
Leasure says "Cyberbully" is the perfect jumping-off point for a discussion:
"During commercials and after the movie ends, engage your child and talk to them about cyberbullying," says Leasure. "Encourage them to come to you immediately if they ever feel threatened by someone online; and stress to them that you will not tolerate any aggression towards others online."
Pandora Corp. is the maker of PC Pandora computer monitoring software, a tool that records all activity on the computer. Parents can view screen snapshots of their child's internet and computer activity, and view logs of all recorded data, such as web history, chat conversations, social network activity, passwords and much more. Leasure says computer monitoring software will help put an end to the cyberbullying epidemic by showing parents exactly what their kids are doing online, specifically, how they are interacting with others.
"Cyberbullying thrives on anonymity," explains Leasure. "Not only are the bullies anonymous online, but they are working in secret in their own homes. PC Pandora takes that away from them and exposes their activity. If there is a bully in your house, PC Pandora will let you know, quietly and discreetly, so you can resolve the situation before law enforcement gets involved."
State governments are in the process of amending and adapting laws; schools are wrestling with boundaries of involvement and trying different education techniques. But Leasure says the real key to ending cyberbullying is zero tolerance from parents.
"Cyberbullying will not stop until the parents of the bullies know what their children are doing online, and care enough to step in and stop it. While talking to your children about civility and teaching them to be nice to others is and always has been essential, monitoring Internet activity is the best way to make sure they are not bullying others online."
For more information on PC Pandora visit http://www.pcpandora.com. Tune in to "Cyberbully" on ABC Family, 8PM Eastern/7PM Central, and join the live chat at http://discussion.pcpandora.com.
About PC Pandora: Pandora Corporation was formed with one goal – to help our customers monitor, control and protect their families and themselves online. First released in mid 2005, PC Pandora has been constantly upgraded to industry-leading specifications and has received accolades from users, reviewers and even school districts and law enforcement agencies, who use the program to help in the day-to-day supervision of the children and citizens they are charged with protecting. The company website devotes space to helping parents by providing them with 18 Tips to Safe Surfing and Pandora's Blog, where current news in the world of online safety is discussed regularly. In addition, the Pandora Corp. has made the PD Pandora Internet Safety Symposium available to schools and law enforcement as a free resource for spreading internet safety awareness to parents. Over the past few years, PC Pandora has vaulted into a leadership position for parental control software by boasting a combination of features that are unparalleled in the monitoring industry. In 2010, Version 6.0 was released, again widening the spectrum of coverage and protection offered by the program. Concurrently released with 6.0, the web-based PC Pandora LIVE! service affords parents the ability to keep their kids safe from anywhere at anytime. PC Pandora is also now available through the Pandora Corp. store at Amazon.com.
Reporters and Producers: Looking to cover this topic? We are your technology solution component. Software is available to journalists for review and testing. Staff members are available for interviews. Let us help you show your audience how easy it can be to keep their kids safe on the Internet.
# # #