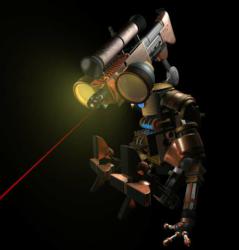 It's the Everlasting Gobstopper of yellow journalism
Fleet Street, London (PRWEB) July 19, 2011
"News of the World Shutting Down" headlines have dominated every media site on the planet for days, while a hardworking robot has recently completed the grueling beta test period for a free, scandal-generating replacement service at Breaking News of the World. In its historic 168-hour run the new publication has already broken News of the World's impressive one-day record for inaccurate stories--fulfilling its stated mission of providing 100% falsehoods round the clock, without a single wiretap law broken.
News of the World Closing Provides New Opportunities
Asks Breaking News of the World publisher Tom Campbell: "The News of the World phone hacking scandal hammered home an urgent journalistic question: in a time of rapidly declining circulation, rocketing print costs, and burgeoning numbers of barely recognisable B- and C-level celebrities desperate for wall-to-wall media coverage, how can a legitimate news operation survive?"
Breaking News of the World disregards the question altogether by promising to provide absolutely zero legitimate news, instead using trailing-edge software to slap together ludicrous stories on the fly with 100% inaccuracy. The kind of computing power required to create compelling fake journalism of this quality has only been available since the 1970s, and for obvious reasons has seldom been employed with such potency on the Web.
News of the World Shutting Down Results in Launch of New Publication
"It's the Everlasting Gobstopper of yellow journalism", points out ex-Microsoft manager Campbell. "Just click the Next and Previous Scandal buttons and you'll get an endless flow of despicable rubbish, but at least it's unique every time. I think." The Breaking News of the World Site features:

Targeted fake stories created for each individual reader, with no two experiences ever the same
Instant headline and story generation
Guaranteed useless stories about has-been actors, washed-up rockers, and aging football stars
A minuscule, never-changing, utterly irrelevant rights-cleared selection of vaguely familiar-looking stock photographs
Robotic Staff of 1 Does Work of 200
Before the News of the World phone hacking scandal, that publication had already slimmed its once-bloated workforce down to a modest 200 after cost-cutting measures. At its inevitable closing Breaking News of the World will only need to make one staff member redundant, a robot named Rovatron. Rovatron still holds down a day job at online auction sniping firm eSnipe, Inc., but its enormous processing power is hardly taxed by the additional processing. "We wanted to help England in her darkest of hours," said an eSnipe spokesman. "eSnipe are only too happy to export rubbish journalism creation technology at no cost to our friends across the pond."
Rovatron's defense department origins are belied by its artificially idiotic retrofit software. Able to generate over 190,010 fraudulent stories per second, it doles them out to the http://www.breakingnewsoftheworld.com site with astounding speed. "Eat your heart out, Murdochs," says publisher Campbell. Then, raising the spectre of outsourcing, "No one is happy about the News of the World shutting down," he proclaims with truly Murdoch-like empathy, "but truly loathsome journalism must now be created by upstarts, and we simply can't outsource this kind of work to non English-speaking countries."