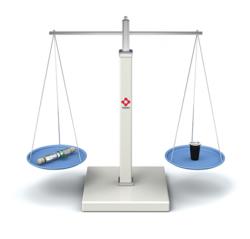 Tosoh believes that HPLC is the gold standard for HbA1c testing and offers the ST AIA-PACK HbA1c as a cost effective solution for low volume laboratories to expand their immunoassay test menu without compromising quality
South San Francisco, CA (PRWEB) July 19, 2011
Tosoh Bioscience, Inc. will be featuring a complete solution for HbA1c monitoring at AACC 2011 in Atlanta from July 24 to 28 (Booth #401). Tosoh's HbA1c product line includes the highly respected G8 HPLC Analyzer, as well as the newly introduced ST AIA-PACK HbA1c assay; which can be run on Tosoh's AIA-360, AIA-600II and AIA-900 immunoassay analyzers.
The G8 provides one of the industry's lowest CVs of less than 2%. According to HPLC Product Manager Ranka Milojkovic, "The instrument-reagent system utilizes the gold standard ion-exchange method for HbA1c level testing to effectively monitor diabetes."
With a compact footprint of 21"w x 19"h x 20"d, the G8 fits easily in most laboratory environments. The G8 provides fast results with an HbA1c analysis time of only 1.6 minutes. Simple touch-screen operation, automatic start-up and daily maintenance make the system extremely user-friendly.
The recently launched ST AIA-PACK HbA1c is available on the AIA-360, AIA-600II and AIA-900 immunoassay analyzers. The ST AIA-PACK HbA1c assay has been shown to be substantially equivalent to the HPLC method. It has a within run precision of < 2% and a total precision of < 4%.
Utilizing Tosoh's acclaimed Unit Dose Test Cup reagent technology; ST AIA-PACK HbA1c has a 90 day calibration stability and one year shelf life from date of manufacture. This greatly helps low volume HbA1c users to minimize costs and prevent reagent wastage.
According to Tosoh Immunoassay Product Manager Shanti Narayanan, "Tosoh believes that HPLC is the gold standard for HbA1c testing and offers the ST AIA-PACK HbA1c as a cost effective solution for low volume laboratories to expand their immunoassay test menu without compromising quality."
The G8 is NGSP certified using the HPLC method. The AIA-360, AIA-600II and AIA-900 are NGSP certified using the immunoassay method.
For more information contact Tosoh Bioscience at (800) 248-6764 or visit http://www.tosohbioscience.us.
Tosoh Bioscience, Inc. (TBI) provides highly sophisticated diagnostic systems for immunoassay and HPLC testing to doctor's offices, hospitals and reference laboratories throughout the Americas. Based in South San Francisco, CA, TBI is a U.S. subsidiary of Tosoh Corporation which is headquartered in Tokyo, Japan. TBI is part of Tosoh Corporation's Bioscience Division.
# # #