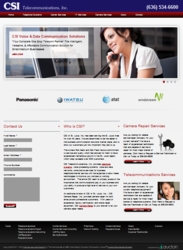 "You know you've done a good job when a customer comes back and asks for your help again"
St. Louis, MO (PRWEB) July 15, 2011
The Net Impact partnered with Auctori to redesign and migrate the CSI Telecommunications website into a content management system making it easier to navigate, easier to maintain and easier for search engines like Google, Bing and Yahoo to find. Find CSI's new website at http://www.csi-stl.com.
"The Net Impact built CSI's first website ten years ago using HTML. We loved it, but technology has changed. With this new website, we can do a lot on our own and feel confident knowing that we're taking all the right steps to rank well in the search engines too." said Chris Witt, Sales Manager at CSI Telecommunications.
CSI's new and improved website is built in the Auctori content management system and primarily utilizes the Form Builder module and the Reusable Content module. The Form Builder module allows developers and non-developers to create polls, surveys, user registrations, site logins, portals and more. With the Reusable Content module, users can set up blocks of content to display on any web page within the website. This feature is great for updating navigation and menu bars. If a user updates a field on one page, it will automatically update that field on all pages, saving a lot of time repeating the same steps.
"You know you've done a good job when a customer comes back and asks for your help again," said Kym Bohl, Project Manager at The Net Impact. "We've had the privilege to watch CSI grow and monitor their technology needs over the years. That's why we think it is so important to build long-term relationships with our clients. Technology changes all the time and we can help them navigate those changes."
About The Net Impact®
The Net Impact, an Internet marketing and web development and design firm, is a division of Unidev®. Since 1997, The Net Impact has been a web development leader empowering clients with highly creative search engine friendly websites. Professional services encompass search engine and Internet marketing solutions, Internet strategy development, training and seminars and web design. For more information on The Net Impact, please visit http://www.thenetimpact.com, or call (636) 787-7800.
About Auctori®
Auctori, a Unidev solution, is a high capacity, high performance Web Content Management System (WCMS) built for search engine optimization. This turnkey solution gives the user the power to add, edit, and delete pages, content and navigation elements on the user's website instantly. In addition, users have the ability to manage profiles and settings all within the content management system. For more information on Auctori or for a free demonstration, please visit http://www.auctori.com, or call (888) 629-4672.
About CSI Telecommunications, Inc.
CSI of St. Louis, Inc. has been serving the St. Louis Area for over 45 years. We are determined to be the leader in the business communication solutions market place. CSI provides telephone systems, voice processing systems, voice and data networks, consultative services for business telephone/internet service with the expertise to allow these technologies to improve your company's working environment. More information is available at http://www.csi-stl.com.
###