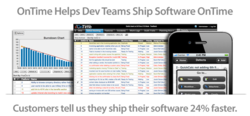 OnTime 11 has been completely redesigned from the ground up with the developers in mind
Scottsdale, AZ (PRWEB) July 18, 2011
Axosoft, the innovative software company behind OnTime, has announced the release of OnTime 11 and a new free 2-User License for both their Hosted and Installed solutions. OnTime 11 is an intuitive and powerful agile/scrum project management software for defect, issue, requirements, and bug tracking.
OnTime 11 has been completely redesigned from the ground up with the developers in mind. The number one goal has been to optimize for software engineers to spend less time in their project management tool and more time writing code. Paying close attention to speed and common tasks, OnTime's user interface is simplistic, yet powerful with a brilliant dashboard, time-saving keyboard shortcuts and an always available ScratchPad.
Hamid Shojaee, Founder and CEO, Axosoft said "At Axosoft we recognize that to ship software on-time, project management tools need to stay out of the way of coders. We've designed OnTime to allow software engineers to perform common tasks with greater speed than has ever been possible and that's what makes the difference between a tool that is embraced and a tool that is avoided by the dev team."
Highlights include:

A Brilliant and Simple Main Interface: The entire interface for the main page enables users to hide unwanted sections and to change each and every segment size with a click of the mouse. Allowing for complete customization and intuitive ease of use.
Keyboard Shortcuts: Similar to programs like Gmail, the new keyboard shortcuts enable for users to spend more time programming and less time entering in data. Just hit the "?" to see the all of the available shortcut keys.
Light-Speed Detailed View: View any item in detail faster than ever thought possible. Just click the "enter" button and before the button bounces back, every detail of that item is shown incredibly fast. Click the "J" and "K" keys to view the next item, or click the "U" button to go back to the main page.
Auto Save Details: With the new auto save function, OnTime has solved the problem of data being lost when a user's browser crashes or session runs out. By clicking the "Reload AutoSave" button, everything that was lost will be back.
ScratchPad: A notepad on steroids, ScratchPad automatically saves user's notes as they write them, allowing them to create an unlimited number of notes. It is also a rich HTML editor, which allows developers to format their notes accordingly.
Drag-and-Drop Attachments: Users can easily drag whatever attachments are associated with the item into the browser-based app. It is as simple as that, unless of course, users are running Internet Explorer, which does not support drag-and-drop functions.
A Smart Burndown Chart: The smartest Burdown chart OnTime has ever had allows for users to hover over individual bars to get values and trending information. Also, as users move from release to release, on the left sidebar, it will automatically update the Burndown chart to reflect selected releases.
OnTime is currently used by more than 100,000 software developers (in ISV, consulting and IT organizations) throughout 55 countries, in organizations like Verifone, EA Sports, Disney, the United States Army, Lego, Cox and Intel. The product is offered in a hosted, cloud environment (SaaS) or installed.
More information about OnTime 11 can be found at http://www.axosoft.com.
About Axosoft
Axosoft, founded in 2002, is a leading provider of agile / scrum project management, and bug tracking software. Its flagship product, OnTime, is widely acclaimed for its comprehensive set of features, flexibility and ease-of-use. Used by over 7,000 dev teams around the world and winner of numerous industry-recognized awards, OnTime is provided as a hosted, cloud-based application (SaaS) or as an installed application. Users access OnTime via one or more of the following clients: Web browser, Windows application, Mobile, a Visual Studio plug-in, or an Eclipse plug-in. OnTime is available free for 2 users at http://www.axosoft.com.
###