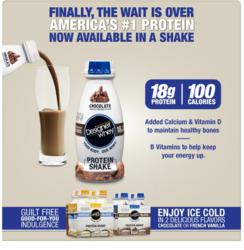 Carlsbad, CA (PRWEB) July 16, 2011
Designer Protein, LLC — an industry leader in developing whey based products, including Designer Whey® Protein Powder, Designer Whey Protein2GO®, Aria® and The Biggest Loser Protein®, announces the launch of ready-to-drink protein shakes in Chocolate and French Vanilla under the Designer Whey® brand.
According to Designer Protein's Chief Executive Officer Cyrill Siewert, "The Sports Nutrition Category is one of the fastest growing consumer packaged goods categories in the U.S. today, and Designer Whey® is a brand that everyone in the industry knows and loves. We are confident consumers will enthusiastically welcome Designer Whey shakes".
Sr. VP of Sales, Lars P. Nilsen said, "Our retail customers are embracing these new shakes as they offer a convenient alternative to our "tribe". They are perfect as a good-for-you indulgence to curb your hunger."
Designer Protein's Online Marketing Specialist Deanna Strickland commented, "This is an exciting addition to the Designer Whey family of products. For a long while, consumers have voiced their desire for a low-calorie, high-protein ready-to-drink shake through our social media platforms. Offering shakes to loyal Designer Whey consumers allows them to have a readily-available source of protein at their fingertips. The shakes are a great convenience for on-the-go lifestyles. The fact that the shakes taste great is an added bonus."
Designer Whey Shakes offer a highly nutritious, great-tasting shake with the following:

18g of protein to help reduce body fat and increase muscle tone
100 Good-For-You Calories™
Added Calcium and Vitamin D to maintain healthy bones
B Vitamins to help provide energy
ABOUT WHEY PROTEIN
Whey protein is naturally derived from milk and quite possibly the most perfect protein when it comes to refueling the body. Whey's 'building blocks' also known as 'the essential amino acids' are vital to recovery and performance.
DEDICATED TO RESEARCH
Designer Whey has spent more than $10 million on research to find the perfect blend of nutritional whey protein with great taste.
Active people who use Designer Whey protein products before and after workouts can experience increased strength, improved power, faster muscle recovery, better health and performance.
Media members looking for additional information on Designer Whey's complete line of protein powders and drinks should visit DESIGNERWHEY.com. You may also learn innovative ways to incorporate protein into current diet plans, meals and discover delicious protein shake recipes.
ABOUT DESIGNER PROTEIN LLC
Designer Whey Protein™ is a leading brand of protein powder products and a pioneer in the sports nutrition market since the early 1990's. Designer Whey has broadened its line in 2011 by launching ready to drink protein shakes and will soon introduce nutrition bars that carry on the brand's tradition of great tasting, best in class products. Designer Protein, LLC also offers the popular Aria™ women's protein product and is licensed to sell protein products under The Biggest Loser™ trademark of NBC Universal. Please visit http://www.designerwhey.com.
# # #