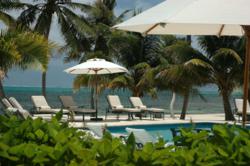 And now, with Travel+Leisure's recommendation, guests will have no doubt that they're experiencing Belize with the best of the best, not only here, but in all of Central and South America.
(PRWEB) July 15, 2011
Visitors to Belize can now stay in two of the recently awarded top ten resorts in Central and South America as part of an all-inclusive, affordable rainforest to reef holiday package.
The Lodge at Chaa Creek has recently been selected as one of the top ten resorts for the entire Central and South American region, according to this month's Travel+Leisure Magazine, which features their annual "Best resorts in the World" awards list for 2011.
And the good news for travellers to Belize is that Chaa Creek's partner in an all-inclusive Rainforest to Reef package, Victoria House on Ambergris Caye, was also named as one of the top ten by the magazine and its website. This means that guests booking the Los Dos Cayos Belize package will be staying in two resorts judged to be not only the best in Belize, but for the entire region.
Chaa Creek and Victoria House were the only two Belizean resorts to receive the distinction, with the other eight winners coming from locales as far flung as Easter Island and Argentina.
Both award-winners are part of Chaa Creek's Los Dos Cayos Belize Vacation package, an all-inclusive, Rainforest to Reef holiday deal that gives guests the opportunity to explore Belize's tropical rainforest , Maya temples and ancient city sites and then enjoy a Caribbean beach holiday on beautiful Ambergris Caye at the stunning world heritage-listed Belize Barrier Reef.
Chaa Creek owner Lucy Fleming said the awards confirm that Chaa Creek and Victoria House are a perfect match. "We've always recommended Victoria House to our guests who are looking for a Caribbean island and reef experience. It's a beautiful resort that shares our views on quiet luxury and sustainable tourism. We've established a very good relationship over the years, so it's great to see them recognised along with us.
"A Travel+Leisure recommendation is always an honour, but to be recognised as one of the top ten in the entire Central and South American region, and then to see our Los Dos Cayos partner on the same exclusive list – well, to say we were delighted is an understatement," she said.
The Lodge at Chaa Creek, Belize's Hotel of the Year 2011, is situated within a 365 private nature reserve and offers an unparalleled range of activities and amenities, including beautiful thatch roofed cottage accommodation, luxury suites, excellent dining, Hilltop spa, butterfly farm, miles of beautiful rainforest trails and easy access to the region's many Maya temples and ancient city sites.
Victoria House is Ambergris Caye's premier resort featuring stunning beach and barrier reef views, diving, snorkelling, fishing and a range of activities as well as fine dining and Caribbean style luxurious relaxation. Both resorts have received numerous awards from other travel industry insiders such as Conde Nast, Trip Advisor, Andrew Harper and others.
"The Los Dos Cayos Belize Vacation really is something special," Ms Fleming said, "We wanted to provide a package that combines the best of Belize, from our gorgeous rainforest to the Caribbean and barrier reef, and make it completely hassle free and affordable. And now, with Travel+Leisure's recommendation, guests will have no doubt that they're experiencing Belize with the best of the best, not only here, but in all of Central and South America. And that's something we're proud of."
###