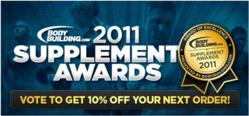 "This award allows the customer to vote on which supplements they feel are the highest-quality and most-effective in helping them achieve their health and fitness goals." - Bodybuilding.com CEO, Ryan DeLuca
Boise, ID (PRWEB) July 15, 2011
Bodybuilding.com, the Internet's most-visited bodybuilding and fitness site and largest online retailer of nutritional supplements, has officially opened the polls for their seventh annual Bodybuilding.com Supplement Awards. Over 70 brands were nominated in all, representing the industry leaders delivering high-quality, effective products. When customers purchased a product from Bodybuilding.com this past year, they voted (with their wallet) for that product's nomination.
The Bodybuilding.com Supplement Awards have set the standard for recognition of the best products and brands in the fitness and supplement industry. The best part about it - it's your vote that counts! Last year, over 315,000 votes from across the world decided what products would become instant top-sellers out of the 13,000+ products Bodybuilding.com carries.
"This award allows the customer to vote on which supplements they feel are the highest-quality and most-effective in helping them achieve their health and fitness goals," said Bodybuilding.com CEO, Ryan DeLuca. Winners will be decided on by customer vote via an online voting system running July 15, 2011 to August 15, 2011 on Bodybuilding.com and will be announced live at the 2011 Mr. Olympia on Friday, September 16th in Las Vegas, Nevada.
This year's Bodybuilding.com Supplement Award categories are as follows:

Brand of the Year
Supplement of the Year
Breakout Brand (most improved) of the Year
New Supplement of the Year
New Brand of the Year
Muscle Building Supplement of the Year
Pre-Workout Supplement of the Year
Intra-Workout Supplement of the Year
Recovery Supplement of the Year
Protein Powder of the Year
Protein Bar of the Year
Energy Supplement of the Year
Energy Drink of the Year
Fat Loss Supplement of the Year
Weight Gainer Supplement of the Year
Creatine Supplement of the Year
Glutamine Supplement of the Year
BCAA Supplement of the Year
Multivitamin Supplement of the Year
Joint Health Supplement of the Year
RTD (Ready-To-Drink) of the Year
Tanning Product of the Year
Packaging of the Year
Cast your votes now and receive 10% off your next purchase at Bodybuilding.com!
Go to http://www.Bodybuilding.com/Awards.
Bodybuilding.com offers more than 13,000 health & fitness supplements and accessories to help more than 7.5 million people every month achieve their health, fitness and appearance goals, as well as over 35,000 pages of FREE information, including more than 20,000 articles and videos, expert online trainers, and new content added daily.
For more information: http://www.bodybuilding.com
Contact: Crystal Matthews
Email: crystal(at)bodybuilding(dot)com
Phone: 208.472.9311
###