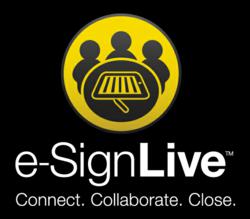 With our e-SignLive service, users of the free edition get the same reliable, secure, and irrefutable legal evidence when signing their documents as would be our paying customers.
Montreal, QC (PRWEB) July 28, 2011
Silanis Technology, the electronic signature provider for US Bank, BMW Financial Services, Liberty Mutual, and 21st Century, today introduced a free version of e-SignLive™, the company's award-winning, electronic signature service on the cloud. Individuals and companies challenged with limited or no IT budgets, can now invite their customers, partners and suppliers to instantly and securely sign documents over the web in a fraction of the time and cost - at no charge. Sign up here for the free edition.
Powered by the same core technology as Silanis' enterprise web and client side solutions which are being used by the U.S. Joint Chiefs of Staff, the U.S. Army, two top-five U.S. banks and many leading insurance companies, e-SignLive enables organizations to move to paperless signing with greater peace of mind.
"Free doesn't always mean risk-free," said Robert Al-Jaar, Executive Vice-President of Online E-Signature Services for Silanis. "And while free cloud services are growing in popularity, they should not introduce risk into the organization."
This is especially true when it comes to signing business documents and legal contracts, which often must comply with regulations and are used to legally enforce their terms and conditions, explains Al-Jaar. That's why e-SignLive produces tamper-evident copies of e-signed documents with strong and secure electronic evidence.
"With our e-SignLive service, users of the free edition get the same reliable, secure, and irrefutable legal evidence when signing their documents as would be our paying customers"continues Al-Jaar.
The ultimate reason for moving to an electronic signing process, however, is the dramatic impact it has on an individual's or organization's productivity, performance, competitiveness, and, ultimately, the bottom line.
Signature Mortgage, a small mortgage provider that services the Ohio and Florida areas, uses e-SignLive to enable its customers to complete mortgage applications over the web. Moving to a paperless signing process has enabled Signature Mortgage to reduce application-processing time from 7 - 10 days down to 24 hours or less, increase its loan volume by 34%, and reduce shipping costs by 85%.
"The benefits of using e-SignLive have far exceeded my expectations," said Bob Catlin, founder and CEO of Signature Mortgage. "All the tangible and measurable ROI that we've seen is a direct result of creating a better experience for our customers. I've received numerous unsolicited emails from customers saying that it was the fastest and smoothest application process they had ever experienced, and how impressed they were by the e-signing technology."
Also available are two other versions of the e-SignLive signing service; the business edition and e-SignLive Integrated for LotusLive. The e-SignLive Business edition, accessible directly from the e-Signlive portal, is designed for users who want more documents and additional functionality. e-SignLive is also integrated with IBM's LotusLive enterprise collaboration suite, and earlier this year, the service earned the IBM Lotus Award in "Business Transformation through Cloud Computing", and was the finalist in the "Banking Industry Solution Providing Business Value" category.
Sign up now for the free edition of e-SignLive.
About e-SignLive
e-SignLive™ is a cloud-based, electronic signature service from Silanis Technology that enables organizations and individuals to invite their customers, partners, and suppliers to instantly sign documents over the web, while harnessing the power of online collaboration and social networking during the negotiation and pre-signing process. As a cloud-based service, e-SignLive offers the quickest time-to-market with the lowest up-front investment while producing reliable and securelegal evidence. Sign up for the free edition of e-SignLive.
About Silanis
Silanis' solutions have processed hundreds of millions of e-signatures since the company was founded in 1992 (50 million in 2010 alone), making it the most widely used e-signature solution. The world's largest insurance and financial services companies, government agencies, and service providers depend on Silanis to accelerate business transactions and reduce costs while improving compliance with legal and regulatory requirements. The company's on-premise, cloud and SaaS e-signature solutions eliminate manual, paper-based processing to enable e-commerce and e-government transactions to be executed fully electronically from start to finish.
###