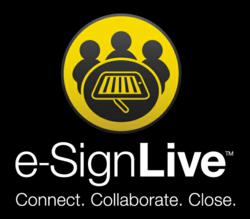 Having worked with some of the world's largest financial institutions and insurance carriers, we understand how important it is keep customers on the organization's branded website, e-commerce or e-business portal.
Montreal, QC (PRWEB) July 28, 2011
Silanis Technology, the electronic signature provider for US Bank, BMW Financial Services, Liberty Mutual, and 21st Century, today announced an integration version of e-SignLive™, the company's award-winning, electronic signature service on the cloud. Organizations, technology partners, and service providers can now integrate e-signing functionality cost-effectively with their web portals and business applications without sacrificing customer experience.
Unlike other SaaS-based electronic signature services, e-SignLive enables organizations to fully tailor the graphical user interface (GUI) to match their branded web portal or application. This ensures a transparent and seamless customer experience, critical for building trust in the online signing process and rapidly gaining adoption.
"Having worked with some of the world's largest financial institutions and insurance carriers, we understand how important it is keep customers on the organization's branded website, e-commerce or e-business portal," said Robert Al-Jaar, Executive Vice-President of Online E-Signature Services at Silanis Technology.
Organizations have invested heavily in their brands and building applications that will enable customers, field reps, and suppliers to transact with them online. The integrated e-SignLive version allows an organization or application provider to extend the value of their branded business process to have their legal contracts and other important business documents reviewed and signed online electronically."
Moving to paperless signing processes enables organizations to reduce the time and cost of getting signatures on documents, while making it more convenient for customers, field reps and suppliers to sign from their home or office. What's more, e-SignLive prevents signing errors from occurring and captures stronger legal evidence than is possible with pen and paper.
e-SignLive's powerful functionality can be quickly and easily integrated with an organization's web portal, e-commerce or e-business application using standard web services, such as REST and JSON. System integrators and technology providers can also leverage e-SignLive's transaction-based e-signing model to provide their clients with additional value-added functionality and services.
The integration edition of e-SignLive is currently being used by Aplifi(formerly known as Blue Frog) and globalCOAL, a provider of the world's leading coal trading platform.
Aplifi has integrated e-SignLive with their PolicyBox system and, as a result, has seen an 87% reduction in processing time and a 75% reduction in the cost of the delivery of insurance policies to their customers.
e-SignLive will also be integrated into Aplifi's other insurance solutions which handle thousands of annuity and life insurance policies each year.
globalCOAL has also integrated e-SignLive with its website in order to make it faster and more secure for its customers to sign product licensing agreements.
"As the intermediary between carriers, banks and the agents/broker-dealer distribution channel, it was important that the e-signing process retain the agent/broker dealer relationship," said Roy Goodart, Senior Vice President Marketing at Aplifi. "e-SignLive provides our agents with the flexibility and configurability needed to design a unique customer experience. "
Eoghan Cunningham, CEO of globalCOAL says that "e-SignLive gave us the ease-of-use and brand control we were looking for, while also giving us the ability to audit the signing process and produce irrefutable evidence of e-signing intent."
e-SignLive is also integrated with IBM LotusLive enterprise collaboration suite, and earlier this year, the service earned the IBM Lotus Award in "Business Transformation through Cloud Computing", and was the finalist in the "Banking Industry Solution Providing Business Value" category.
About e-SignLive
e-SignLive™ is a cloud-based, electronic signature service from Silanis Technology that enables organizations and individuals to invite their customers, partners, and suppliers to instantly sign documents over the web, while harnessing the power of online collaboration and social networking during the negotiation and pre-signing process. As a cloud-based service, e-SignLive offers the quickest time-to-market with the lowest up-front investment while producing reliable, secure legal evidence. Sign up for the free edition of e-SignLive.
About Silanis
Silanis' solutions have processed hundreds of millions of e-signatures since the company was founded in 1992 (50 million in 2010 alone), making it the most widely used e-signature solution. The world's largest insurance and financial services companies, government agencies, and service providers depend on Silanis to accelerate business transactions and reduce costs while improving compliance with legal and regulatory requirements. The company's on-premise, cloud and SaaS e-signature solutions eliminate manual, paper-based processing to enable e-commerce and e-government transactions to be executed fully electronically from start to finish.
###