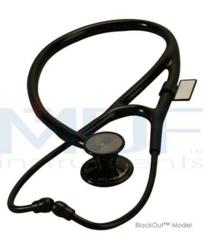 Free Parts for Life!
(PRWEB) July 15, 2011
MDF Instruments is a US-Based manufacturer of Stethoscopes, Neural Reflex Hammers, Sphygmomanometers, and Diagnostic Pen Lights. MDF has been "Crafting Wellness" since 1971, and use premium grade metals to give their instruments lightweight properties, while making them super-duty and hygienic. Don't let the external appearance fool you, not only do these instruments look good they perform even better.
MDF has a wide range of Stethoscopes to choose from with Cardiology, Pediatric, Infant, Teaching, Sprague Rappaport, Dual-Head and Single-Head models to choose from in a variety of colors from the increasingly popular "Black-Out" models to "Frosted" colors as well. MDF also manufacturer Sphygmomanometers with gauges being tested 3,000 before assembly. From the one-handed operation Medic Palm, to Mobile and Wall mount Androids these Sphygmomanometers are built to perform. MDF also has a line of replacement cuffs that fit many other major branded Sphygmomanometers on the market.
Neural Reflex Hammers crafted by MDF Instruments come with a few key features such as a model with a Lightweight Handle, integrated tips and retractable brushes, as well as being perfectly balanced for increased control of force in percussion's to elicit myotatic reflexes.
With MDF Instruments you can perform your job in the medical profession as if someone's life depends on it.
###