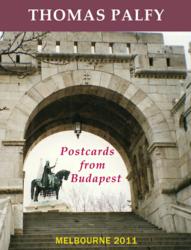 I would like to introduce to you dear reader the pearl of the Danube through my pictures, selected from the great many I took while roaming through the City of my youth.
Melbourne, Victoria, Australia (PRWEB) July 16, 2011
The latest book of Thomas Palfy, writer-photographer, Postcards from Budapest has been published through http://www.lulu.com. It is a richly illustrated record of the author's several tours to Budapest, between 1976 and 2005. It features pictures of the banks of the Danube, public buildings including the interior of the Houses of Parliament, theatres and famous art galleries, many of the statues and monuments adorning the city, walks in the old city of Buda including the Buda Hills, the ruins of the ancient Roman town, Aquincum as well as other tourist attractions. This book is the fourth in Palfy's Postcards from… series. It is available both in English (Postcards from Budapest) and in Hungarian (Budapesti képeslapok).
For more information or to request a free review copy, members of the press can contact the author at tpalfy7(at)gmail(dot)com or visit http://www.australiantravelstories.com. Thomas Palfy's books are available for sale from http://www.lulu.com, http://www.CreateSpace.com, http://www.amazon.com and through other wholesale and retail channels worldwide.
About the Author
Over the years Thomas Palfy has written several travel-photo books about Australia starting with Australian Adventures and Images of Australia in 2006. These two works describe and illustrate visits to the main cities as well as many national parks with their weird and wonderful landscapes, unusual plants, fascinating animals and encounters with people. The West of the West is a travelogue of a trip to the West Coast and the Kimberley region of Western Australia with many colour illustrations. The Hub of Australia and Beyond is a similar account of tours in South Australia and the Northern Territory. Australia Illustrated: The Eastern States completes the trilogy of descriptions and illustrations of tours to the states and territories of the fifth continent. Definitely Digital! is a concise guide to digital photography. It is based on the class notes for U3A, the University of the 3rd Age (Nunawading branch, Melbourne, Victoria Australia). Across Australia from East to West is Palfy's most comprehensive work presenting many of Australia's incomparable tourist attractions in words and pictures. The author was diagnosed with lung cancer early in 2010. After an operation, several stays in hospital and months of chemotherapy treatment Palfy created the inspirational essay The Funny Side of Lung Cancer. The work with its provocative title aims at encouraging people to take an optimistic attitude no matter what situation they have to face in life. Thomas Palfy's latest albums, the Postcards from… series introduce the reader to the attractions of various parts of Australia and now also to Budapest, the Hungarian capital where he spent much of his youth and later returned several times to take photographs and to observe…
MEDIA CONTACT: Thomas Palfy tpalfy7(at)gmail(dot)com
AUTHOR'S WEBSITE: http://www.australiantravelstories.com
Link to Publication: http://www.lulu.com/tpalfy and http://www.CreateSpace.com
Release Source: Thomas Palfy
###