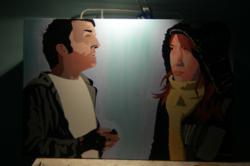 [untitled] is an offering to lovers, artists, sci-fi enthusiasts, feminists and fanatics of independent music.
Auburn Hills, Michigan (PRWEB) July 19, 2011
After ten months [untitled] has finally been released. 100 hours on set and a dozen location changes later the crew was finally pleased with the video and unleashed it on the world. [untitled] is a story about falling in and out of love, an interracial love story and a social statement about the oppression of women. [untitled] premiered, on the big screen, July 5th at the Royal Oak Main Arts Theater in Royal Oak Michigan and went viral that night. This song can be found on Robo-Robb's 2011 Hi-Hill Recordings release, SOULBOT2. Robo-Robb is joined by co-star Cindy Chu who made her short film debut in the award winning short Qing Lou Nu. Cameos in this video include Apollo Brown, Adrienne Williams, Dante LaSalle, Skywlkr, mister and Robert Flood who produced [untitled] just to name a few. Let's back track to the inception of the project.
It was October of 2010 and Robo-Robb was meeting Demetrios Anastasiow for the first production meeting to get his latest music video production up and running. Robb had an unreleased copy of a song he had named "untitled", for the interim, it was the first actual love song he had ever written. Demetrios was fired up, as always, he was the first director to take notice of Robb's music during their undergraduate studies, and he directed Robb's first music video titled "Footwork". After they threw around some ideas they decided telling a love story on the screen would be the best way to go. Robb called his friend Cindy Chu during their meeting, he knew she had done some acting work, to see if she'd be interested in starring in the video, she agreed. Robb and Demetrios sat in the parking lot playing the song for a while and decided to go forward. At that moment they had no idea what they were getting themselves into. [untitled] became their most elaborate undertaking to date.
[untitled] was shot in 4 different styles and incorporates some fantastic technique. The producer, Ryan D'Silva, wanted to visually depict falling in and out of love with the shooting styles. The diner scene was shot in 'stop motion' to show the surreal feeling you experience when falling in love. In the dentist office 'time lapse' was used to build on that feeling, which leads to the pizza shop and radio station where 'ghosting' is incorporated to show the deterioration of love. The video finally ends with no effect to show how everything returns to normal. In [untitled] 'rotoscoping' was used to depict the growing burden of economic and social oppression that Cindy (the woman) faces at her job and in her day to day life. Conversely, "rotoscoping' was used in the pizza shop and in the bedroom scene to portray Robb (the man) free of the burden and hardships experienced by his love. As well as being a video about love, this is a video about inequality.
Over the course of those 10 months Cindy went to the Sundance Film Festival. The Producer Ryan D'Silva went to India to visit his family. Robo-Robb released SOULBOT2 and started a new career of public speaking, traveling to high schools all over Michigan, motivating high school students to pursue a higher education. Just about everyone who had a cameo in the video has done some pretty impressive things. Apollo Brown has been one of the most sought after producers in hip-hop, Adrienne Williams directed her first music video, Dante LaSalle was shadowed by a French television documentary and thats just a fraction of the things that have happened in the cast and crews life during those ten months.
The song retains the name "[untitled]" because Robb decided to title the song a picture of a lotus blossom. Since word processors and and iTunes do not recognize graphic representations of song titles he added brackets to "untitled" to reduce confusion.
[untitled] is an offering to lovers, artists, sci-fi enthusiasts, feminists and fanatics of independent music. Shot entirely in Metro Detroit with a minimal budget, the crew was able to secure impressive locations and a photogenic cast that make this video energetic and powerful. Patience and skill went into constructing visuals for a video that could stand independently of the song it accompanies. Love and oppression are everyday stories across the world and sometimes cross paths taking out innocent bystanders. With their sights on the globe, Robb and Demetrios hope to take [untitled] to the world and show the masses what friends from school can do with a camera and a story.
###